Webber Naturals
Webber Naturals Melatonin Maximum Strength
Sleep Support 10 mg 72 Tablets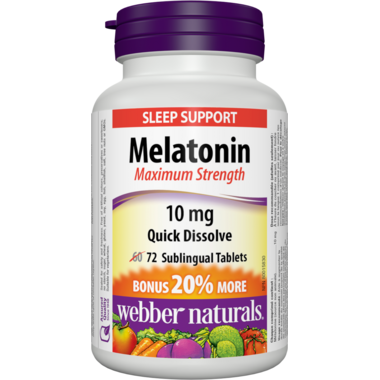 Sleep Support 10 mg
72 Tablets
---
Description
Melatonin, Maximum Strength, Easy Dissolve, 10 mg from webber naturals is the maximum dosage available in one convenient sublingual tablet.
When sleep patterns are disturbed, falling and staying asleep can be difficult. Melatonin improves sleep quality, regulating circadian rhythms as sleep patterns change with age, or when offset by sleep disorders, jet lag, and irregular schedules.

Features:
10 mg potency
Maximum strength
Easy dissolve, peppermint flavoured sublingual (absorbed under the tongue) tablet
Melatonin is popular with shift workers, travelers, and others who need help to normalize sleep patterns
Medicinal ingredients: Melatonin 10 mg
Non-Medicinal Ingredients: Cellulose, Lactose Monohydrate, Magnesium stearate, Peppermint Flavour, Cross-linked carboxymethyl cellulose.
All uses except jet lag: Consult a physician if sleeplessness persists for more than 4 weeks (chronic insomnia). All uses: Avoid taking with alcohol or products that increase drowsiness. Consult a physician prior to use if you have cardiovascular, immune, liver, or chronic kidney disease, hormonal or seizure disorders, asthma, depression, diabetes, low blood sugar, or migraine. Consult a physician prior to use if you are taking medication for seizure, blood pressure to suppress the immune system (immunosuppressive medications), to affect mental state or increase sedation, steroids or blood thinners. All uses: Do not use this product if pregnant or breastfeeding. All uses: Stop use if allergy occurs or if you experience headache, confusion, or nausea.

Highlights

Shipping & Returns