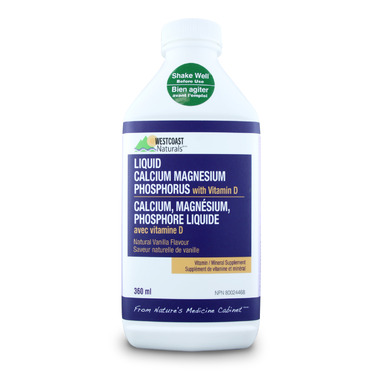 Description
Vitamin and mineral supplement. Helps in maintenance of bones and teeth, and to prevent bone resorption and osteoporosis.

Calcium is necessary for the development and maintenance of bones and teeth. Calcium is the body's most abundant mineral, making up nearly 2% of total body weight. Approximately 99% of the body's calcium is in the bones. The body maintains a steady level of calcium in the blood by moving calcium from bones into blood. Long term dietary deficiency of calcium may lead to the depletion of the bone calcium stores, rendering the bones weak and prone to fracture.

Dosage (Oral) Adults only: 1 tablespoon per day with milk or juice.

Ingredients:
Calcium(Calcium Phosphate Tribasic, Calcium Gluconate Monohydrate), Magnesium (Magnesium Oxide, Magnesium Hydroxide), Phosphorus(Calcium Phosphate Tribasic), Vitamin D3 (400 IU) (Cholecalciferol), Sorbitol, Glycerin (Vegetable Source), Methyl 4-Hydroxybenzoate, Propyl 4-Hydroxybenzoate, Xanthan Gum, Purified Water, Natural Vanilla Flavour.

Contains No:
Dairy, egg, yeast, or wheat.

Cautions:
Avoid taking 2 hours prior to or until 4 hours after taking other medications.
Shipping & Returns