Zuke's Z-Filets Glazed Chicken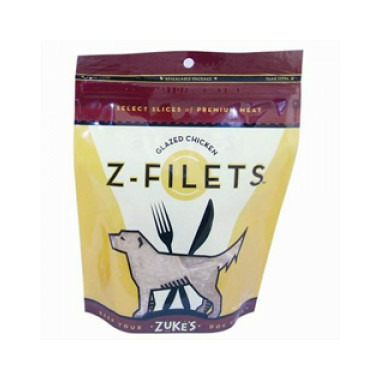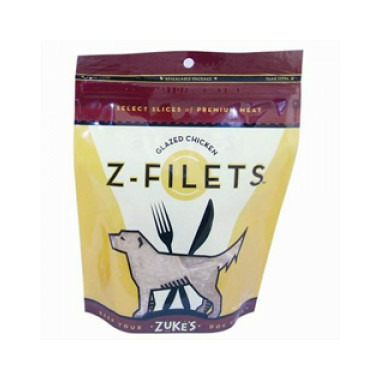 Zuke's Z-Filets Glazed Chicken
Z-Filets are healthy grain free filets for dogs. These high protein dog treats support strength, vitality and performance. With pure chicken protein, antioxidant-rich herbs, and a taste so delicious your dog will follow you anywhere. Feed your dog grain-free Z-Filets and enjoy life's adventure with your dog.

Features:

Grain Free – Z-Filets are now grain-free
Antioxidant-Rich Herbs – Seasoned with rosemary, turmeric and sage to help keep taste buds happy and your dog healthy
80%+ Pure USA Chicken – Support strong muscles and peak performance with the power of pure chicken protein
Crazy Tasty! – Z-Filets taste so good your dog will go crazy for them
Feeding Details:
Feed as a healthy treat, along with long walks and lots of love of course. Tear into tiny bites for fun feeding or let your dog enjoy one healthy filet at a time. It's all good, Z-Filets are both nutritious and delicious.
Ingredients:
Chicken, Potatoes, Maple Syrup, Garlic Powder, Salt, Phosphoric Acid, Rosemary, Turmeric, Sage, Sorbic Acid (a preservative), Citric Acid, Mixed Tocopherols.
Guaranteed Analysis – Grilled Chicken
Protein not less than 30%
Fat not less than 8%
Fiber not more than 3%
Moisture not more than 30%
Calories approx. 55 per piece
Shonna:
more than a year ago
My Chihuahua is crazy about these! I just break off small bits, and one small bag lasts a long time for a 6 pound dog. They even smell delicious! Zukes is a great product line-I don't feed my dog anything from the grocery store, so Zukes is one of my favorites from the feedstore. Great to see WELL carry it now too!
Page
1