Adrien Gagnon Melatonin Quick Sleep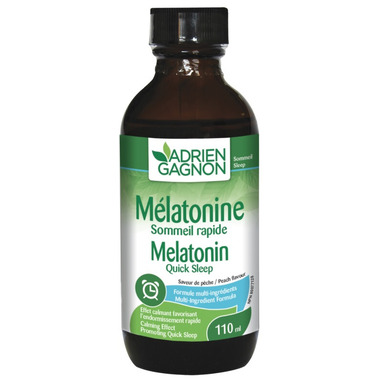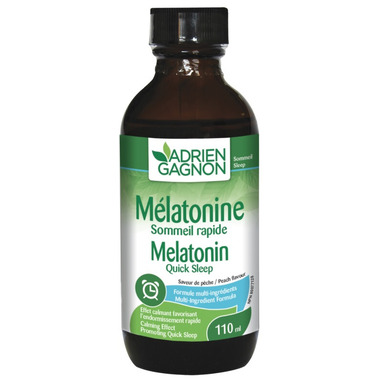 Adrien Gagnon Melatonin Quick Sleep
This peach formula flavor has a calming effect to help fall asleep faster.
Features:

Helps to temporarily promote relaxation.
Helps to reduce the time it takes to fall asleep in people with delayed sleep phase disorder.
Helps increase the total sleep time in people suffering from sleep restriction or altered sleep schedule, e.g. shift-work and jet lag.
Passionflower is traditionally used in Herbal Medicine as a sleep aid in cases of restlessness or insomnia due to mental stress.
REASONS FOR TAKING THIS PRODUCT?
Sleep disorders affect more than a third of the population. Quick sleep is a mixture of melatonin, plants and L-theanine that will provide you with a sleepy ease, longer sleep time and better sleep quality. Its liquid formula allows better absorption and a faster effect.Complete formula.
Melatonin is known to promote sleep, reduce the time for falling asleep and relieve the effects of jet lag and shift-work
L-Theanine helps to relax.
Chamomile is recognized as a calmative and to promote sleep.
The California poppy helps you relax and relieve pain.
Passionflower is used to relieve mental stress that causes insomnia and restlessness.
WHO WILL BENEFIT FROM THIS PRODUCT?
For people who have difficulty falling asleep.
For active people who have difficulty sleeping after physical activity.
For people who want to easily dose melatonin.
For people looking for effective action for all situations (jet lag, shift-work, mental stress, pain, insomnia, restlessness).
Dosage: Adults: Take 2 tea spoons (10ml) once a day, at or before bedtime. For jet lag, take once a day at bedtime after darkness has fallen, while travelling, and at destination until adaptation to the new daily pattern. Do not drive or use machinery for 5 hours after taking melatonin.

Ingredients:

Melatonin : 10 mg
L-theanine [Camellia sinensis] (leaf) : 200 mg
German chamomile [Matricaria chamomilla] (flower) 10:1 extract equivalent to 1500 mg of dried flower : 150 mg
California poppy [Eschscholzia californica] (herb top) 5:1 extract equivalent to 200 mg of dried herb : 40 mg
Passionflower [Passiflora incarnata] (herb top) 10:1 extract equivalent to 250 mg of dried herb : 25 mg
Caution:

Do not use this product if you are pregnant or breastfeeding or if you are allergic to plants of the Asteraceae/Compositae/Daisy family.Consult a health care practitioner for use beyond 4 weeks, if symptoms persist continuously for more than 3 weeks (chronic insomnia), or if symptoms worsen.
For occasional short-term use in case of jet lag.
Consumption with alcohol, other medications or natural health products with sedative and/or analgesic properties is not recommended. Consult a health care practitioner prior to use if you are taking one of the following medications: anticoagulant, anticonvulsant, blood pressure medications, immunosuppressive medications, sedative, hypnotic or psychotropic medications, or steroids; or if you have one of the following conditions: asthma, depression and/or related diseases, diabetes or hypoglycemia, cardiovascular disease, chronic kidney disease, liver disease, immune system disease, migraine, hormonal, coagulation or seizure disorders.
Some people may experience drowsiness.
Exercise caution if operating heavy machinery, driving a motor vehicle or involved in activities requiring mental alertness.
Discontinue use if mild gastrointestinal symptoms (nausea, vomiting, or cramping) or allergic reactions occur.