Adrien Gagnon Relaxen Night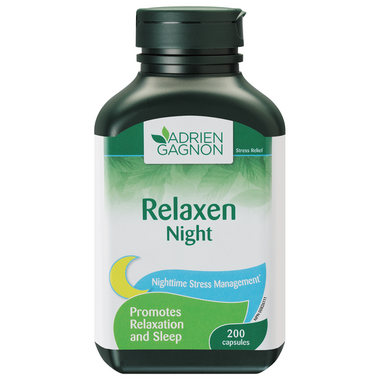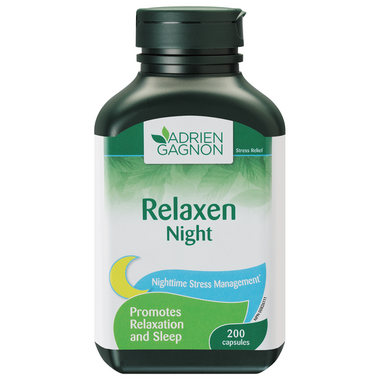 Adrien Gagnon Relaxen Night
Adrien Gagnon Relaxen is a calming and relaxing formula to help promote sleep. This supplement helps calm nervousness due to stress, fatigue and overwork.
Benefits & Recommended for:
Light sedative formula to promote sleep
Calms nervousness
Plant combination promotes a deep and refreshing sleep
Dosage:
Adults: Take 1 or 2 capsules at bedtime. Use occasionally.
Medicinal ingredients:Each capsule contains:
Valerian [Valeriana officinalis] (root) Extract 4:1 equivalent to 400 mg of crude dried valerian 100 mg
Passion Flower [Passiflora incarnata] (flower) Extract 4:1 equivalent to 400 mg of crude dried passion flower 100 mg
Hops [Humulus Lupulus] (flower) 200 mg
Linden [Tilia sylvestris] (flower) 10 mg
Melissa [Melissa officinalis] (leaf and flower) 10 mg
Note:
When used as recommended, Relaxen does not cause physical or psychological addiction.

Precautions & Adverse Effects:
Do not use with alcoholic beverages or if you are pregnant or breastfeeding. Consult a healthcare practitioner prior to use if you are taking barbiturates, sedatives and/or herbs with sedative properties. Consult a healthcare practitioner for use beyond 6 weeks or if you feel drowsy and/or have withdrawal symptoms after abruptly discontinuing chronic use.
Canadian brand, Gluten free, Non-GMO, dairy free, peanut free product, tree nut free product, Natural