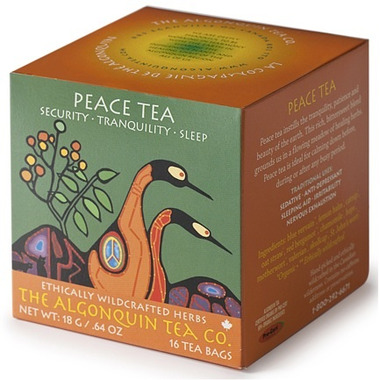 Description
Traditionally used in herbal medicine as a sleep aid and to reduce nervousness. The herbs in Peace Tea help with the stress and worry of a modern life. A cup before bed should induce a peaceful night. Inspired by the plants that grow in Canada's Algonquin Park. Ethically harvested. Contains no additives or preservatives.

Ingredients: Chamomile (Matricaria recutita)*, 210 mg, Oat straw (Avena Sativa)* 200 mg, Lemon balm (Melissa officianalis)* 150 mg, Valerian (Valeriana officianalis)* 100 mg, Catnip (Nepeta cataria) 100 mg, St John's wort (Hypericum perforatum)* 70 mg, Motherwort (Leonurus cardiaca)* 70 mg, Hops (Humulus Lupulus)* 30 mg, Bee Balm.
* Organic

Do not use if you are pregnant.


Highlights

Shipping & Returns