Security Tranquility Sleep
16 Tea Bags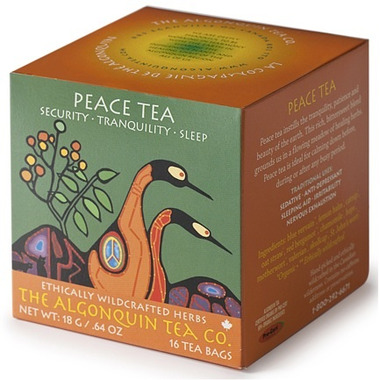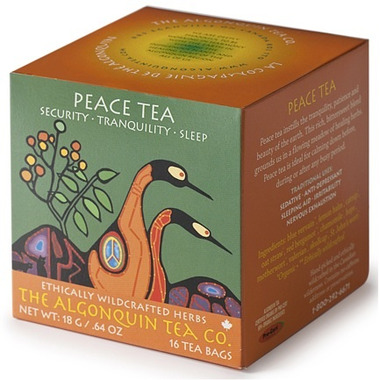 Algonquin Peace Tea
Security Tranquility Sleep
16 Tea Bags
Peace tea instills the tranquility, patience and beauty of the earth. This rich, bittersweet blend grounds us in a flowing meadow of healing herbs.
Traditional Uses:
Sedative
Anti-depressant
Sleeping aid
Irritability
Nervous exhaustion
Ingredients:
Blue Vervain, Lemon Balm, Catnip, Oat Straw, Red Bergamot, Chamomile, Hops, Motherwort, Valerian, Skullcap and St John's Wort.
Ingredient Traditional Uses:
Traditionally the herbs in this blend have been used as sedative, anti-depressant, anti-tumor, nervine, as a sleeping aid, and for irritability and other ailments associated with nervous exhaustion.
BLUE VERVAIN: nerve tonic, spleen and liver, fever, circulation
LEMON BALM: insomnia, antibacterial-viral, menses, headache
CATNIP: colds, restlessness, headaches, heavy menses, sedative
OAT STRAW: physical and nervous fatigue, depression, thyroid
RED BERGAMOT: colds, fever, headache, insomnia, stomach ache
CHAMOMILE: insomnia, indigestion, headaches, cramps
HOPS: sedative, cramps, fevers, estrogenic, rheumatism
MOTHERWORT: nerves, regulates heart, mood swings, menses
VALERIAN: nerve tonic, irritability, sedative, depression
SKULLCAP: sedative, nerve tonic, antispasmodic
ST.JOHNS WORT: depression, inflammation, sedative, wounds