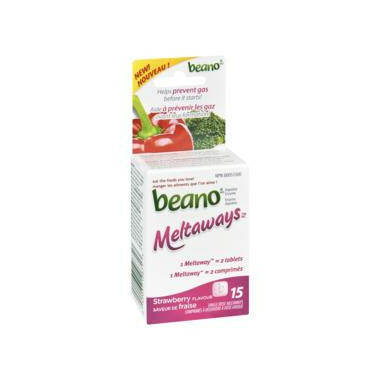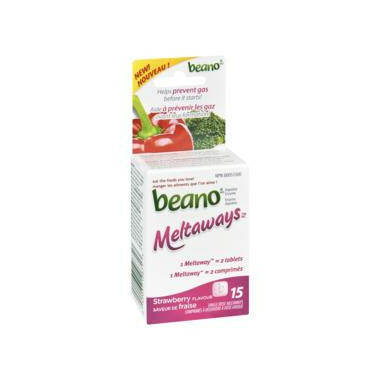 One Beano Meltaway works the same as two Beano tablets. Just place on your tongue before your first bite, and it will melt away in seconds with a smooth, strawberry flavor to help prevent gas from happening.
Beano Meltaways are a Vegetarian-Friendly formula that contains a natural enzyme that breaks down complex carbohydrates found in many foods, making them easier to digest so they don't cause gas.

How to use Beano tablets:
-Use for the right problem: Use Beano if you experience the symptoms of stomach gas caused by many healthful foods.
-Use with the right food: Beano Tablets prevent symptoms caused by a variety of foods including:
Veggies like broccoli, lettuce, peppers and carrots
Proteins like beans and peanuts
Whole grains like whole wheat and oat bran
Ingredients (per 1 tablet):
Alpha-galactosidase 300 GALU (derived from Aspergillus niger)
Other Ingredients:
Mannitol, povidone, corn starch, water, sodium stearyl fumarate, polyvinyl acetate, less than 1% of: maltodextrin, silicon dioxide, calcium gluconate, triacetin, natural & artificial flavor, red no. 40 lake, acetic acid, sodium lauryl sulfate.
Warnings
If you are pregnant or nursing a baby ask a doctor before use.
Allergy Note
If a rare sensitivity occurs after taking Beano Meltaways, discontinue use. Galactosemics consult your doctor.
Storage
Store below 25°C (77°F). Avoid Heat. Too much heat can inactivate the enzyme, so don't cook with Beano.