Buckley's
Buckley's Cough Congestion Original Mixture Syrup
Coughs & Congestion 100 mL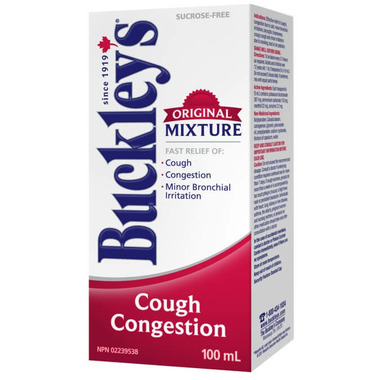 Buckley's
Buckley's Cough Congestion Original Mixture Syrup
Coughs & Congestion
100 mL
---
Description
Buckley's Original Mixture, created in 1919 is a Sucrose - Free Syrup that provides fast and effective relief of coughs and congestion due to colds, minor bronchial irritations, laryngitis, hoarseness, croupy cough.

Dosage: Adults: 1 to 2 teaspoons (5 to 10 mL). If preferred, mix with equal parts honey.

Active Ingredients: Each teaspoonful (5 mL) contains: potassium bicarbonate 267 mg, ammonium carbonate 153 mg, menthol 22 mg, camphor 2.2 mg.

Non-Active Ingredients: Butylparaben, Canada balsam, carrageenan, glycerin, pine needle oil, propylparaben, sodium cyclamate, tincture or capsicum, water.

Caution: Do not exceed recommended dosage. Consult a doctor if underlying condition requires continued use for more than 7 days, if cough worsens, persists for more than a week, or is accompanied by too much phlegm (mucus), high fever, rash, persistent headache or vomiting. Individuals with any medical condition, including kidney or liver disease; the elderly, pregnant women and nursing mothers should consult a doctor prior to use. In the case of accidental overdose, contact a doctor or Poison Control Centre immediately, even if there are no symptoms. Keep out of reach of children.

Highlights

Shipping & Returns
Unfortunately, due to the nature of this item, we cannot accept any returns.
We are only able to ship this item to Canadian customers.
Click here for more information