Bite-me Cherry
18 Lozenges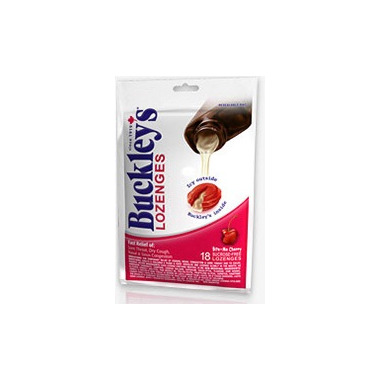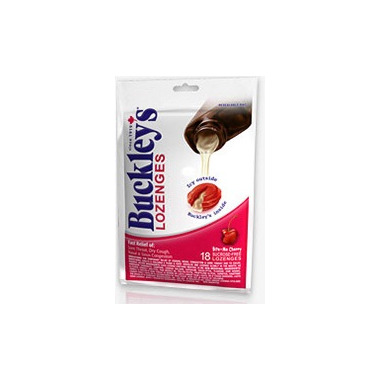 Buckley's Lozenges
Bite-me Cherry
18 Lozenges
Buckley's Lozenges Bite-me Cherry provides fast relief of sore throat, dry cough, nasal & sinus congestion.
Active Ingredients:
Menthol 20mg
Non-Medicinal Ingredients:
Ammonium carbonate, calcium carbonate, camphor, Canada balsam, capsicum, corn starch, eucalyptol, FD&C Red #40, flavours, glycerin, isomalt, magnesium carbonate, maltitol, mono & diglycerides, petrolatum, pine needle oil, propylene glycol, sorbitol, soy lecithin, soybean oil, water.
Directions:
Adults and children 6 years and over: Dissolve a lozenge slowly in the mouth, as required.
Children under 6: Do not use.
Caution:
Consult a doctor if sore throat is severe or lasts more than 2 days; or if cough worsens, lasts more than 7 days or is accompanied by high fever. Keep out of reach of children. Do not use if bag is open or torn.

Catherine:
more than a year ago
Buckley's slogan is: "It tastes awful, and it works". That has held true for nearly 100 years, and it is spot on. I tried these lozenges recently when dealing with a nasty sinus/throat/cough combo, and the relief they provided was pretty much instant, and helped me get over the lurgy in just a couple of days.
The only reason I'm giving this 4 out of 5 stars is because it just tastes so very, very bad. At least with the cough syrup, you can knock it back in a single go, gag for a minute or two, and then scrape your tongue (or whatever) to get rid of the taste in your mouth, but these are lozenges: you have to keep them in your mouth, letting the flavour build and build until your eyes start to retch. It took me a good 8 hours to get through a single lozenge because breaking it into teensy little pieces was the only way to tolerate them.

Still, they're incredibly effective.
1