Carlson
Carlson Super D Omega-3 Cod Liver Oil Lemon Flavour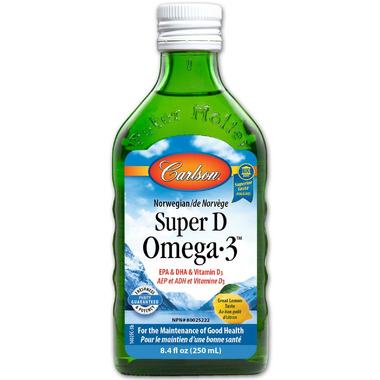 Carlson
Carlson Super D Omega-3 Cod Liver Oil Lemon Flavour
Description
Carlson Super D Omega-3 comes from the livers of fresh Norwegian Arctic Ocean Cod Fish and provides 2000 IU of vitamin D per teaspoonful. The oil is separated from the liver tissues without the use of chemicals. Bottled in Norway for maximum freshness.
Features:

Promotes heart, brain, vision, and joint health
2,000 IU of vitamin D3 and 1,100 mg of omega-3s per teaspoonful
Provides the important omega-3s EPA and DHA
Liquid with award-winning lemon flavor
Freshness, potency, and purity guaranteed
Ingredients: 100% Cod Liver Oil, Natural Lemon Flavour

THIS PRODUCT is regularly tested (using AOAC international protocols) for freshness, potency and purity by an independent, FDA-registered laboratory and has been determined to be fresh, fully potent and free of detectable levels of mercury, cadmium, lead, PCB's and 28 other contaminants.



Highlights

Features
Promotes heart, brain, vision, and joint health
2,000 IU of vitamin D3 and 1,100 mg of omega-3s per teaspoonful
Provides the important omega-3s EPA and DHA
Liquid with award-winning lemon flavor
Freshness, potency, and purity guaranteed
Ingredients
100% Cod Liver Oil, Natural Lemon Flavour
Shipping & Returns