Ecoideas Organic Raw Papaya Crunch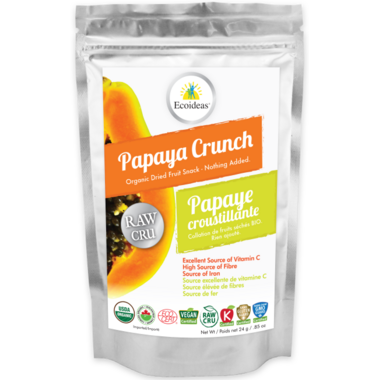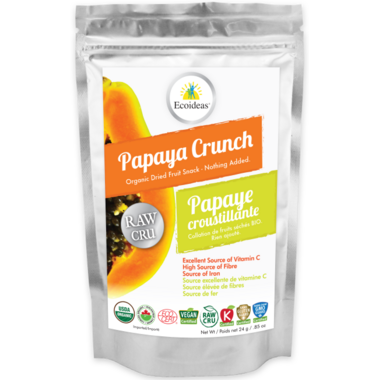 Ecoideas Organic Raw Papaya Crunch
Ecoideas Fruit and Veggie Crunches are dehydrated using a unique 'VitaSnack' dehydration process that preserves the nutrients and intense fresh flavour. All of the fruits and vegetables are grown organically, seasonally selected, and simply sliced. They are first lightly dried below 47 C, keeping them raw. They then enter the texturizing phase, where extra-dry air gives them a porous texture, driving out moisture without having to raise the temperature. This phase gives Ecoideas Fruit and Veggie Crunches their 3 unique properties: maximum nutrition, intense flavour, and irresistible crunch!

Features:
100% Organic Papaya
Seasonally selected
Free from artificial colours and preservatives
Free from added salt or sugar
Made without frying or freezing
Nutritional Benefits:
Rich in soluble fibre and a source of natural antioxidants.
Low in saturated fats to help maintain normal blood cholesterol levels.
Low in sodium to help maintain normal blood pressure.
High Vitamin C content contributes to normal functioning of the nervous and immune system, blood vessels, skin, cartilage, gums, bones, teeth.
Protection against oxidative damage.
Reduces tiredness and fatigue.
Improves absorption of iron.
Helps to regenerate the reduced form of Vitamin E.
Ingredients:
Papaya