Enfamil
Enfamil Gentlease A+ Powder Tub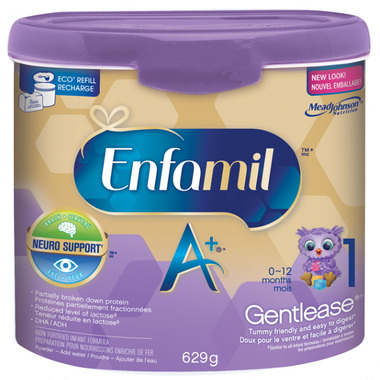 Enfamil
Enfamil Gentlease A+ Powder Tub
0-12 Months
629 g
Enfamil Gentlease A+ Powder Tub
is rated out of
5
by
102
.
---
Description
This item is a final sale item. Returns cannot be accepted.
Every baby is different. Most babies do well on regular infant formula such as Enfamil A+ while others have difficulty. (Fussiness and gas are more common than you think!)
Enfamil Gentlease A+ Quickly relieves fussiness and gas with fewer constipation complaints.
Protein blend, patterned after breast milk that has been partially broken down
Reduced levels of lactose
DHA and ARA (sources of Omega-3 and Omega-6 fats) that support normal brain and eye development
Ingredients: Corn Syrup Solids, Partially Hyrdolyzed Modified Milk Ingredients (soy), Palm Olein Oil, Coconut Oil, Soy Oil, High Oleic Sunflower Oil, Mortierella Alpina Oil, Lactose, Crypthecodinum Cohnii Oil*, Taurine, L-Carnitine, Ascorbyl Palmitate, Mixed Tocopherols ( may contain potassium hydroxide), MINERALS (calcium carbonate, calcium potassium, cupric sulfate, ferrous sulfate, magnesium phosphate, manganese sulfate, potassium chloride, potassium iodide, sodium citrate, sodium hydroxide, sodium selenite and zinc sulfate) VITAMINS (ascorbic acid, biotin, calcium D-pantothenate, choline chloride, dl-a-tocopheryl acetate, folic acid, inositol, niacinamide pyridoxide hydrochloride, riboflavin, thiamine hydrochloride, vitamin A palmitate, vitamin b12, vitamin D3, vitamin K1).
* A source of DHA


This product is excluded from any special promotions or coupons.
Highlights

Shipping & Returns
Unfortunately, due to the nature of this item, we cannot accept any returns.
We are only able to ship this item to Canadian customers.
Click here for more information
Rated

5

out of

5
by
Luna's Grama
from
Thank You
My grand daughter is 21 days old and the hospital put her on Enfamil lactose free as her parents are lactose intolerant. Well for the first 6 weeks she wouldn't burp, her poop was hard, she was fussy, and not sleeping well. We were told by a family friend to try gentle ease and wow am I glad we did! Such a different baby. She's burping, sleeping more, and way less fussy. I definitely recommend gentle ease formula. Worked wonders for us. Only issue I have is I wish you could buy it in the cans. They are way more affordable in the long run and you get more bottles out of a case over the ready made stuff.
Date published: 2018-06-06
Rated

4

out of

5
by
Cori Berehula
from
Great!
This product works great! My only wish is that it came in concentrate form. I would use it exclusively if it did.
Date published: 2018-03-04
Rated

5

out of

5
by
Tania
from
Goodnight sleep
Finaly mom,dad and baby boy had a goodnight sleep. Our son who's a week old had a hard time burping these last few couples of days. He also had cramping and had a hard time pooping. We checked out reviews and saw good ones for the gentle ease. Decided to give it a try( we were using the regular Enfamil A+) Well we are very glad we did because as soon as he drank his second bottle of gentle ease he pooped his life away lol... and mommy and daddy were finaly able to burp him while he fed. Thank you Enfamil gentle ease. :)
Date published: 2018-10-04
Rated

5

out of

5
by
Lindsay
from
Highly recommend if your baby is very gassy
Our little guy was so gassy that he would wake up in the middle of a nap screaming and crying trying to push out gas! It only took a few days after switching from the regular Enfamil A+ to the Enfamil A+ Gentlease to see a HUGE improvement. He still has gas but he isn't struggling to push it out and waking up because of it. Now we can both get a little more sleep at night.
Date published: 2019-01-07
Rated

5

out of

5
by
Jill
from
Best formula
My daughter would grunt, strain and fuss all day and night. We tried several different types of formula and none worked UNTIL we tried gentlease formula in a glass bottle. No more grunts, no more fussing, no more gas this helped us so much. My baby is full of smiles and giggles and I get to enjoy being a mommy to a happy baby. I only wish i would have tried this sooner. THANK YOU ENFAMIL!!
Date published: 2019-08-22
Rated

5

out of

5
by
Collin416
from
Enfamil A+ Gentlease is #1
Love this brand will used it until my sons next step at 6 months Enfamil A+ 2
Date published: 2018-05-04
Rated

4

out of

5
by
Mom
from
L.O. is preemie plus gerd issues
My baby boy was born 7wks early with Gerd (reflux) issues. I breastfed for 3months but found my milk was too thin for him. We tried good start first (as baby boy reacted to enfamil A+ preemie) in the hospital. When my L.O. reacted to good start we were told about enfamil gentelease and havent looked back. Not only did his vomiting from the gerd settle a little better but we both slept better and he went from being in the 3rd percentage to the 50th percentage in one month!
Date published: 2018-12-01
Rated

5

out of

5
by
Sarah Gale
from
Get into a routine
The best tip I can give when it comes to feeding your baby is to get into a regular routine and let baby take their time when eating. Babies have a wonderful internal clock and I find that my baby is less fussy when it comes to eating if she eats at the same time everyday. If she is expecting her bottle then she is ready for it. I have found that Enfamil A+ Gentlease is the best for sensitive or fussy babies. You can't force a bottle on a baby, but if you get them into a routine they will expect it and therefore want it. Also enjoy the special bonding you get to have with your baby at feedings.
Date published: 2014-03-03