Fluf
Fluf Snack Packs Apples and Oranges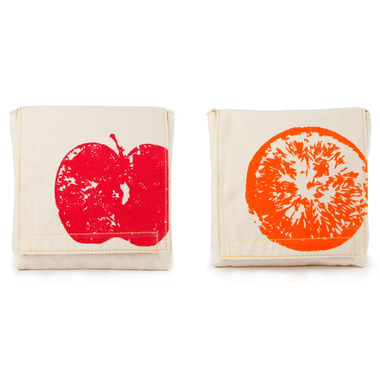 Fluf
Fluf Snack Packs Apples and Oranges
Description
For school lunches, hold the plastic baggies. Most schools now require that kids pack a litterless lunch, and Fluf's reusable snack packs are the perfect replacement for disposable plastic bags. Fluf sandwich & snack bags are durable, roomy and amazingly easy to keep clean: rinse the lining with mild soap and water (it dries instantly) and throw the entire bag in the washing machine anytime. Made with certified organic cotton and a tested food-safe, water-resistant lining (free of BPA, phthalates and lead), Fluf snack packs are healthy, safe, and adorable to boot.
Features:
Certified organic cotton
Preshrunk and fully machine washable
Rinseable, tested food-safe lining
Hook and loop closure (easy for small hands!)
Durable and roomy - ample space for kids and grown ups alike
Meets or exceeds the highest safety standards
Materials: Snack Packs are made from certified organic cotton; lining is 100% polyester.
Size: 6"(L) x 6.25"(W) x 0.75"(D)

Lunch containers always getting lost? This snack bag has a spot for a name!

Highlights