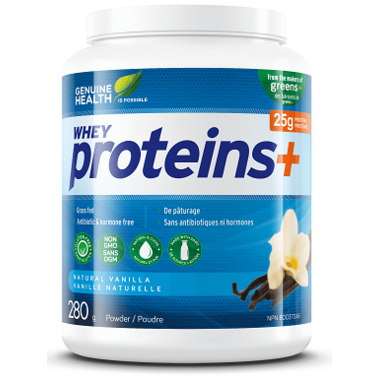 Description
Genuine Health Proteins+ Powder can help you achieve a leaner, healthier body.
Protein is vitally important for overall health, including easier weight loss, increased metabolism and lean muscle. Containing alpha+ whey protein isolate, proteins+ provides the purest, absorbable source of protein with digestion enzymes, and no artificial ingredients.
Benefits of including proteins+ every day include:
Increased metabolism
Decreased fat storage
Increased lean muscle
Improved immunity
And unlike other formulas, proteins+:
Contains no artificial ingredients or sweeteners
Is low in calories, with little to no fat and carbohydrates
Contains all-natural digestive enzymes
Mixes easily into foods, with no blender required
As a mid-day snack, pre or post exercise, enjoy proteins+ every day for a leaner, healthier body – naturally.
Non-medicinal ingredients:
Stevia, lecithin (soybean), natural flavour blend (natural cream flavour, natural creamy vanilla flavour, natural French vanilla flavour).
Suggested Dosage:
To increase lean muscle, improve exercise recovery and immune support. mix two scoops (28.3g) of proteins+ in one cup (250 mL) of pure water or juice. Take once daily or as needed.
Caution:
Do not use if you are pregnant, or if you are allergic to papaya, pinapple, Aspergillus, mold or milk/milk products. Consult a health care practitioner before use if you have a medical condition, if you are taking prescription medicines (eg. blood thinners), or if you have impaired liver or kidney function. Discontinue use if you experience hyperintensitivity/allergy.
Note:
proteins+ contains no artificial colours, flavours, sweeteners, corn, egg, wheat, gluten, or yeast.
Highlights

Shipping & Returns