Gold Top Organics Hemp Bits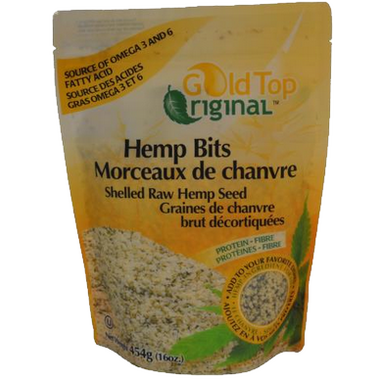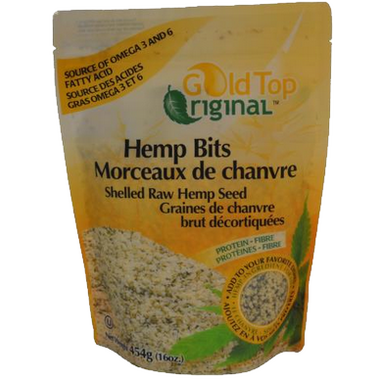 Gold Top Organics Hemp Bits
Hemp Bits are the soft centres of the Hemp seeds. We have mechanically separated the hard shell away from the centre. No chemicals, additives or preservatives are used. Hemp seed contains a natural antioxidant which keeps it fresh for months at room temperature.
Because of their protein and fatty acid profiles, Hemp Bits can help you full fill, reduce the number of cravings for sweets, and have energy. Therefore, in conjunction with an exercise program, Hemp Bits can help you lose weight. Hemp Bits also has a balance omega-6 / omega-3 ratio.
Features:
Produced by taking off the hard shell leaving the soft centres.
Free of chemicals, additives or preservatives.
Made from Canadian grown hemp.
Gluten and trans fat free.
Manufactured in a peanut free and kosher approved facility.
How to use this product:
Eat it as a snack.
Sprinkle on top of cereals, salads or favourite meals.
Add to cookies or muffins for an added nutty flavour and health benefits.
Use them in shakes after a work out to gain the benefits of added protein and the essential fatty acids.
Why use this product?
Hemp Bits are a delicious and nutritious snack that can help you feel full.
Hemp contains a favourable omega-6 to omega-3 ratio of 3:1 or lower which is better than the target ratio of 4:1. A balanced omega-6: omega-3 ratio has been shown to:
reduce the risk of atherosclerosis, sudden cardiac death and certain types of cancers.
decrease in the symptoms of rheumatoid arthritis.
improve mood in bipolar disorders.
optimize development in infants.
Furthermore, hemp seeds and Gold Top Original Hemp Bits contains all of the essential amino acids in nutritionally significant quantities and proportions. They also contain vitamins (e.g. particularly the tocopherols and tocotrienols of the Vitamin E complex), phytosterols and trace minerals.
Using Hemp Bits may add a good ratio of essential fatty acids, amino acids, and vitamins, which can be helpful during a weight loss regime, during and after workouts and in everyday life.