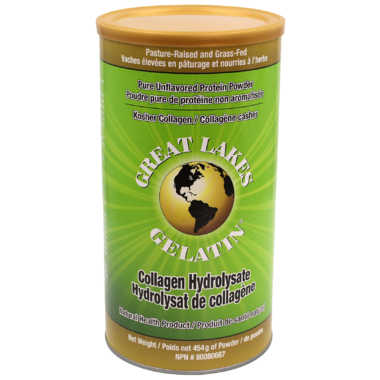 454 g
Great Lakes Gelatin Collagen Hydrolysate
is rated out of
5
by
48
.
---
Description
Bovine Collagen Hydrolysate is rich in amino acids that promote healing for joints, cartilage and bones. It also promotes the density of collagen fibroblasts, stimulating collagen production to rejuvenating skin. Collagen Hydrolysate has a low molecular weight, easily absorbed with significant accumulation in the skin, cartilage and connective tissue.

Dosage: 10 g (1.5 rounded tbsp)

Cautions: May cause mild gastrointestinal disturbances. If you are pregnant or breastfeeding, have liver or kidney disease, or have been instructed to follow a low-protein diet, consult a health practitioner prior to use.

Gluten-Free, Kosher Pareve, No MSG, Glyphosate Free, Certified Paleo Friendly, Keto Certified
Highlights

Features
Joint and cartilage care
Increased collagen synthesis for skin health
Aids in building connective tissue
May promote hair and nail growth
Cold water soluble
Ingredients
Hydrolyzed Collagen (Bovine)
Shipping & Returns
Rated

5

out of

5
by
Karen
from
I originally bought this product to see it it would relieve the pain in my lower back. I have L5-S1 degenerative disc disease. I have been using this product for 6 weeks now. I noticed a glow and hydration in my face after week two. As time goes on I am experiencing even more benefits such as the cellulite in my legs is becoming less noticeable. Best part, my lower back isn't as troublesome anymore. No more rolling out of bed in the mornings. I take 1 1/2 tbls every morning in my coffee. Well.ca has the best price.
Date published: 2019-04-17
Rated

5

out of

5
by
Cindy
from
I have been using this for a while and it really helps with my sore joints. My skin also feels more moisturized. I notice a difference when I stop using this and then start again. Got his on sale here and it was the best price I could find anywhere here in Canada.
Date published: 2019-02-17
Rated

5

out of

5
by
Marilyn
from
I have been using this product for 7 months, every morning in my smoothie. It has significantly removed all the arthritus pain in both my thumbs. Hope you can keep up the supply for the next 30 years!
Date published: 2018-11-30
Rated

4

out of

5
by
Sandebeaches
from
Seems to be working
This was recommended by a fitness instructor I follow on Instagram. I use it in my tea and although there is a mild flavour, it does not alter the tea significantly. It dissolves completely and never leaves any lumps. Overall very happy with the product. My hair is shiny, my skin looks better and after 4 months, my nails are finally starting to get stronger.
Date published: 2020-01-27
Rated

5

out of

5
by
Cathryn
from
I've recently started using this and I'm enjoying the product. It mixes well in my smoothies and I add it to my oatmeal. I am noticing a slight improvement in my arthritis already and my hair. I will definitely continue using it. I enjoy natural clean products and this site has many with great prices! Thanks Well.ca
Date published: 2019-07-24
Rated

5

out of

5
by
Tracey
from
I have been using this product for 3 years now. When I started Keto, I noticed I was losing weight rapidly and this product helped to keep my skin firm. It also helps with nails and hair. I mix it in my coffee or smoothie... no taste and mixes well in hot or cold water!
Date published: 2019-05-08
Rated

5

out of

5
by
Hope
from
This is an unbeatable product in my opinion. I have been giving this to my kids for a long time and I really believe it is helping them with their digestive issues.
Date published: 2019-02-17
Rated

5

out of

5
by
lmm
from
Dissolves easily - no taste
I was a little skeptical about how unflavored it would prove to be and wasn't sure how easily it would dissolve. I was delighted to discover that there really is zero taste and it dissolves instantly in my coffee. I know it will take time to see results - I'm looking forward to growing my hair faster to get the last of my haircolor gone (I'm going naturally silver!)
Date published: 2020-05-28