Holista Complete Head Lice Kit
Tea Tree Oil Shampoo & Pure Tea Tree Oil
I Kit (3 Items)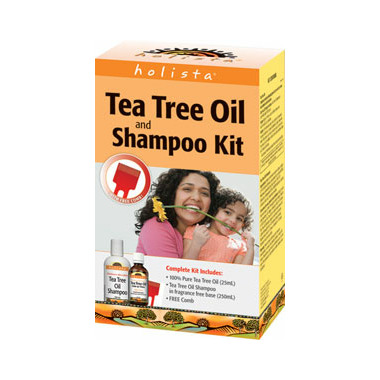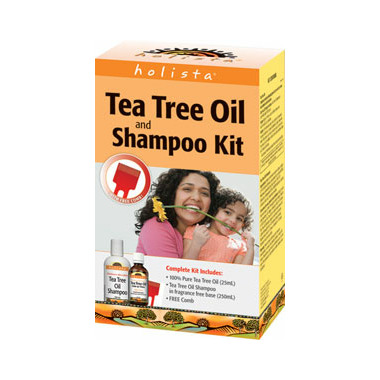 Holista Complete Head Lice Kit
Tea Tree Oil Shampoo & Pure Tea Tree Oil
I Kit (3 Items)
Kit Contains:
25 mL 100% Pure Tea Tree Oil
250 mL Tea Tree Oil Shampoo in fragrence free base
Comb

The Tea Tree Oil and Shampoo Kit from Holista contains tea tree oil shampoo and 100% pure tea tree oil and guarantees a safe and natural treatment for eradicating head lice and nits and helping to prevent re-infestations.
The shampoo contains 2% tea tree oil and is also mild enough for daily use; it's hypoallergenic, with no added fragrance. Tea tree oil shampoo works to remove build-up on the hair and scalp, leaving it feel nourished and clean; ideal for those who have a dry flaking scalp.
The 100% pure tea tree oil is a natural first aid remedy and can be used for common ailments of the skin such as acne, nail-bed fungal infections, minor skin abrasions and more.
Caution: Avoid contact with eyes and mucous membranes. In case of accidental contact, rinse with water. Discontinue use if rash or irriation occurs. Do not use in the presence of dermatitis or other chronic skin conditions.

Joanne:
more than a year ago
We had used the shampoo and tea tree oil to try and treat/prevent an unconfirmed lice infestation on one of my kids, but ended up going to a professional 1 week after treatment. The comb that comes with the kit isn't great - I recommend buying a different comb (like the Lice Squad/Terminator comb).
We now use the shampoo as an everyday product and it effectively removes oil from my scalp. I recommend using a conditioner after using this product.
Page
1