Jamieson Magnesium Mineral Complex Chewable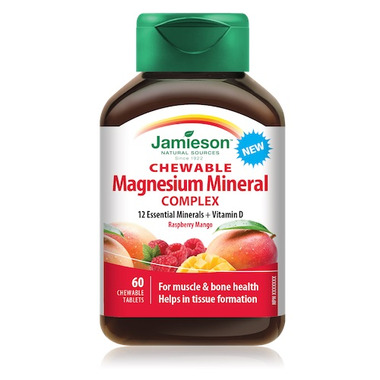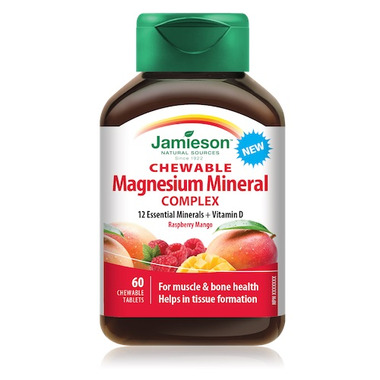 Jamieson Magnesium Mineral Complex Chewable
Jamieson Magnesium Multi Mineral Chewable has 140mg of Magnesium and 12 essential minerals and vitamin D in a great tasting, chewable tablet.
Features:
For Muscle & Bone Health
Helps in tissue formation
12 Essential Minerals plus Vitamin D
Easy to take, delicious Raspberry Mango Chewable Tablet
Directions:
Take 1 tablet daily with food.

Ingredients:
Vitamin D3 (Cholecalciferol) 20mcg/800IU
Boron (Citrate) 250mcg
Calcium (Dicalcium phosphate, Tricalcium phosphate) 280 mg
Chromium (Amino acid chelate) 35 mcg
Copper (Citrate)1000 mcg
Iodine (Potassium iodide) 150 mcg
Iron (Ferrous fumarate)14 mg
Magnesium (Citrate, Oxide)140 mg
Manganese (Citrate) 18 mg
Molybdenum (Citrate) 45 mcg
Phosphorus (Dicalcium phosphate Tricalcium phosphate) 131 mg
Selenium (Amino acid chelate) 55 mcg
Zinc (Oxide)75 mg
Caution:
Contains milk derivatives.
Dextrose, sorbitol, natural flavours (mango, raspberry), mannitol, citric acid, sunflower oil, sodium caseinate, monoglycerides, dipotassium phosphate, tocopherols, silica, vegetable stearic acid, natural flavour enhancer, guar gum, Brazilian palm tree wax, maltodextrin, gum acacia, vegetable juice, sucralose.


AB:
a few months ago
We'll.ca customer service was, as always, awesome. This product, however, was not. The idea of a mineral supplement is great but this stuff tastes truly awful - very chalky. I like other chewable supplements from Jamieson such as their vitamin C, so this was a big disappointment.
Page
1