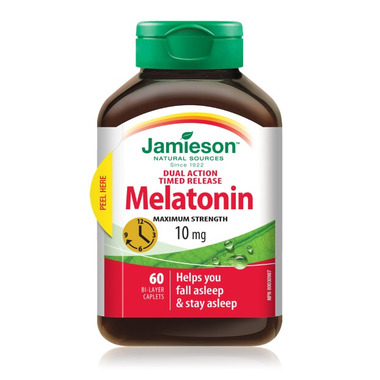 Description
Melatonin is a natural substance secreted by the pineal gland in the brain. It is recognized as a key element in regulating the body's day/night metabolic rates. The secretion of melatonin is synchronized with our biological clock, which dictates the daily changes upon the body's metabolic activity. These are known as our circadian rhythms.
An immediate and extended release of Melatonin in one dose!
Jamieson's first bi-layer caplet formulated to provide dual action support for those experiencing trouble falling and staying asleep.
The first layer dissolves quickly to provide an immediate dose of 5 mg of melatonin within 10-15 minutes to help you fall asleep.
The second layer allows a gradual release of 5 mg of melatonin over 4-6 hours to help keep you asleep for a full night's rest.
Formulated with pharmaceutical grade melatonin, which is the animal-free synthesized duplicate of natural melatonin.
Free of artificial colours, flavours and preservatives.
Directions:
Adults – Take 1 caplet daily at or before bedtime. For use beyond 4 weeks Consult a health care practitioner. Store between 15ºC-25ºC, away from children.
Highlights

Shipping & Returns