Land Art B-Complex Zen Liquid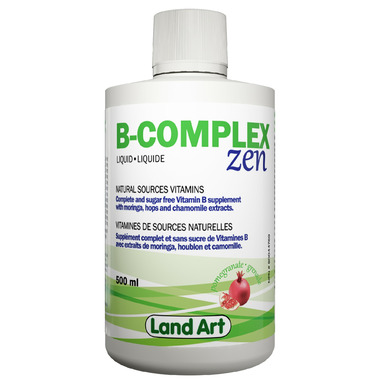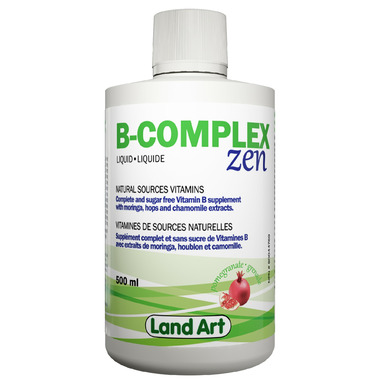 Land Art B-Complex Zen Liquid
Land Art B-Complex Zen Liquid offers vitamins from natural souces, as a complete and sugar free Vitamin B supplement with moringa, hops and chamomile extracts. Group B vitamins are essential and complementary, which is why a complete formula is necessary. Unique because of its liquid form and its optimal concentrations, Land Art B-Complex Zen Liquid is more effective and more easily absorbed.
Land Art B-Complex Zen Liquid provides all the benefits of a balanced B vitamins complex, especially adapted and with added ingredients known to help relieve nervousness.
Benefits:
Help balance nervous system.
Helps the body to metabolize nutrients like fats, carbohydrates and proteins.
Gluten Free
Medicinal Ingredients:
Per 15 ml
Vitamin B1 (Thiamine hydrochloride), 40 mg
Vitamin B2 (Riboflavin), 36 mg
Vitamin B3 (Niacinamide), 30 mg
Vitamin B5 - Pantothenic acid (d-panthenol), 100 mg
Vitamin B6 (Pyridoxine hydrochloride), 27 mg
Vitamin B12 (Methylcobalamin, Cyanocobalamin), 75 mcg
Vitamin C (Ascorbic acid), 9 mg
Biotin, 60 mcg
Folic acid (Folate), 780 mcg
German Chamomile, flower, 10 mg
Hops, strobile, 500 mg
Inositol, 100 mg
Non-Medicinal Ingredients:
Purified water, vegetable glycerin, natural pomegranate flavour, xanthan gum, moringa aqueous extract, sodium benzoate, potassium sorbate, stevia. *Contains no dairy, wheat, gluten, yeast or corn.
Preservation:
Refrigerate after opening.
Cautions and Warnings:
Consult a health care practitioner prior to use if you have depression and/or related diseases, if you are pregnant or breastfeeding or if symptoms persist or worsen. Some people may experience drowsiness. Exercise caution if operating heavy machinery, driving a motor vehicle or involved in activities requiring mental alertness.
Directions:
Adult: 1 tablespoon (15 ml) daily.