Land Art
Land Art Puredrop Magnesium Liquid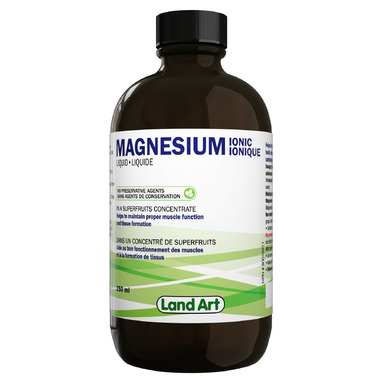 Land Art
Land Art Puredrop Magnesium Liquid
Description
Each cell in the body needs magnesium to produce energy. Magnesium participates in the creation of over 300 enzymes that transmits messages to the nervous system. Magnesium also helps in the use of other vitamins and minerals such as vitamin C and calcium.
Land Art Puremineral Magnesium is 100% natural. Ionised, it is very bioavailable. Suspended in a superfruit concentrate, this magnesium supplement has a very pleasant taste!
Health Benefits:
Aids in tissue development and maintains strong bones and teeth
Contributes to the proper functioning of muscles by helping the inflow of nerve impulses
Prevents muscle spasms (helps relax the muscles)
Helps the cardiovascular health system (helps maintain a good heart rate and stabilizes blood pressure)
Directions: Children 0-13 years old: 5 ml per day. Adults and adolescents 14 and over: 10 ml per day.
Medicinal Ingredients (per 10 mL):
Magnesium (Magnesium sulfate) … 125 mg
Non-Medicinal Ingredients: Purified water, concentrated fruit juices (apple, grape, blueberry, pomegranate, cranberry). No added sugar, aroma or coloring agents. No preservatives. No allergenics (gluten, wheat, dairy products, yeast, corn).
Highlights

Shipping & Returns