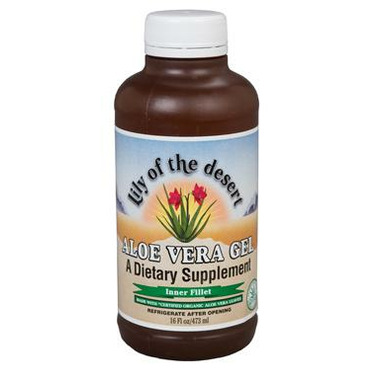 Description
Drink to your health! This aloe vera gels contains 200 biologically-active components with beneficial polysaccharides, essential amino acids, vitamins, minerals and enzymes.

Features:

Support healthy digestion
Support a healthy immune system
Reduce harmful toxins
Increase absorption of nutrients
Enhance antioxidant support
Balance stomach acidity naturally
Soothe occasional muscle and joint discomfort

Recommended Dosage: Adults take 1 dose (59 mL) 1-3 times daily on an empty stomach, or as directed by a health practitioner. If seal around cap is broken or missing do not use. Consume 5-6 months after opening. Consult a health care practitioner prior to use if you are pregnant, breastfeeding, or have diabetes.
Ingredients: Aloe Vera Fillet Juice, Organic Polysaccharide Rich Alosorb.
Carrageenan (thickening Agent), Citric Acid (ph Stabilizer), Potassium Sorbate (mold inhibitor)

Highlights

Features
Support healthy digestion
Support a healthy immune system
Reduce harmful toxins
Increase absorption of nutrients
Enhance antioxidant support
Balance stomach acidity naturally
Soothe occasional muscle and joint discomfort

Ingredients
Aloe Vera Fillet Juice, Organic Polysaccharide Rich Alosorb. Carrageenan (thickening Agent), Citric Acid (ph Stabilizer), Potassium Sorbate (mold inhibitor)
Shipping & Returns