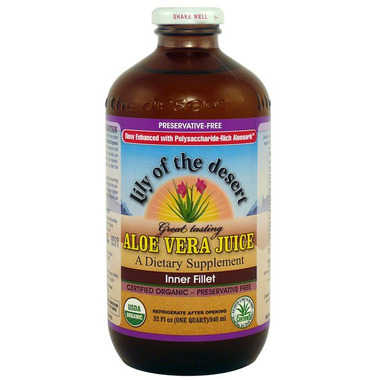 32 oz
Lily of the Desert Preservative Free Aloe Vera Juice
is rated out of
5
by
10
.
---
Description
The Preservative Free Aloe Vera Juice products with Aloesorb™, when taken on a daily basis provide consumers with numerous clinically-proven health benefits including: promote a health digestive system, helps to balance stomach acidity, helps to boost the immune system, increases vitamin and supplement absorption when taken with the juice, supports reduced inflammation throughout the body while promoting healthy joint and muscle function.
Lily of the Desert's Preservative Free aloe vera juice product line has set a new standard in the aloe vera industry by providing consumers the first and only USDA Certified Organic aloe vera juice. These products contain the full range of health benefits found in Lily of the Desert aloe vera products while not having the preservatives. Without preservatives, the juices have a cleaner, and lighter taste.
Directions: Drink 2 ounces per day or as needed.
Ingredients: Organic Aloe Vera Fillet Juice, Organic Polysaccharide Rich Aloesorb, citric acid.

Does Not Contain additional sugar, starch, or water.
Consumer Notice: This product is a natural product; therefore the color may change slightly due to seasonal variations without effecting purity, efficacy, or quality. Refrigerate immediately after opening.
Highlights

Shipping & Returns
Rated

4

out of

5
by
Indra
from
Aloi vera Gel by Lily of the desert c ompany.
Plastic bottle used by the manufacturer is a big problem.Narrow opening makes it difficult to use the last few days' remaining supply.Either we cut the bottle or throw Away 5-7 days supply.To solve this problem : Narrow opening should be replaced with as larger as whole bottle. larger as whole bottle by the Manufacturer(Lily of the desert US company) !
Date published: 2021-12-08
Rated

5

out of

5
by
DeDe
from
Very helpful
I have acid reflux and was taking ACV which helps with the reflux but over time I was concerned with the amount Of acid I was ingesting so decided to try Aloe Juice. It helps preventing the reflux. I usually drink approx 2 ounces before each meal.
Date published: 2021-12-30
Rated

5

out of

5
by
Kat
from
Taste very fresh, as though it just got squeezed and bottled right away. Love that there is no preservative. Was still fresh after about a month or so, but must be kept in fridge at all times to maintain freshness. Nothing to complain about. Excellent source of aloe juice.
Date published: 2016-11-11
Rated

4

out of

5
by
Meg
from
I detox my system daily with aloe vera juice. I usually mix one ounce of this with 2 ounces of cranberry juice and drink once a day every morning on an empty stomach. It keeps me regular. I liked this one because it's not too strong and it's affordable.
Date published: 2012-04-03
Rated

5

out of

5
by
Charles
from
Powerful stuff. Does wonder on your insides. And it does not take much to get results.
Date published: 2012-03-27
Rated

5

out of

5
by
Marni
from
It is as good quality as I can find and will be buying again.
Date published: 2014-11-07
Rated

5

out of

5
by
Madeline
from
Helping with my acid reflux.
Date published: 2019-10-04
Rated

4

out of

5
by
diana
from
I have GERD which is particularly annoying during night. So I constantly wake up with a sore throat. After a whole lot of research this product came up a whole lot. I tried it, however, I didn't notice any changes neither to my digestion or throat. You go through it really quickly too (I mixed 1/4 aloe with 1/4 water). I'm going to try it again.
Date published: 2016-05-22