Living Alchemy Holy Basil Alive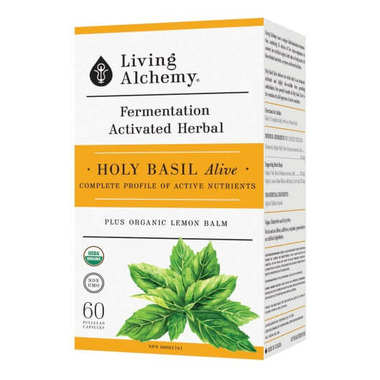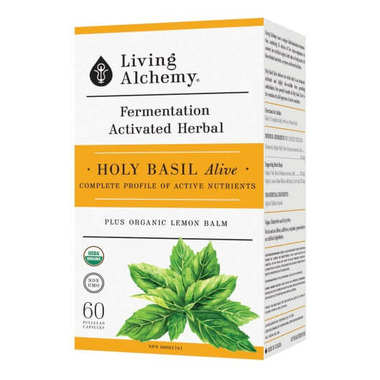 Living Alchemy Holy Basil Alive
Living Alchemy uses the ancient art of fermentation to activate Holy Basil into its superior form for Holy Basil Alive. They ferment their finest organic Holy Basil using a month long fermentation containing 35 select species of micro-organisms from kefir and kombucha cultures. This activation delivers the complete synergy of the herb within a living food matrix for exceptional vitality and bio-availability.
Features:

A Complete Profile of Active Nutrients
Calms the Mind & Uplifts the Spirit
Superior Bio-availability
Unique Kefir-kombucha Fermentation
Free from excipients, binders, additives, and any artificial ingredients or chemicals at every stage of manufactureLiving Alchemy is certified organic by International Certification Services Inc.
Gluten and dairy free
Non-GMO
Suitable for vegetarians and vegans
Formulated by a qualified nutritional therapist
Dosage: Adults: Take 1-3 capsules daily with or without food.

Active Ingredients: Fermented, Organic Holy Basil 133.3mg (Ocimum sanctum, leaf) Supporting Herb Blend: Organic Holy Basil 133.3mg (Ocimum sanctum, leaf), Organic Lemon Balm 133.3mg (Melissa officinalis, herb top)

Non-active Ingredients: Organic Pullulan Capsule

Caution: Consult a healthcare practitioner if symptoms persist or worsen, are breastfeeding, have a heart condition or diabetes, or are taking any heart of blood pressure medication. Consumption of alcohol, other medications or health products with sedative properties is not recommended. If you are pregnant, do not use this product. Some people may experience drowsiness, exercise caution if operating heavy machinery, driving a motor vehicle or involved in activites requring mental alertness.