Natural Immix Bee Propolis Alcohol Free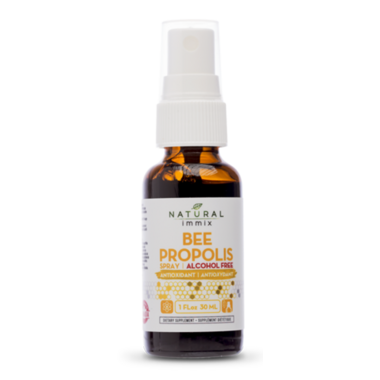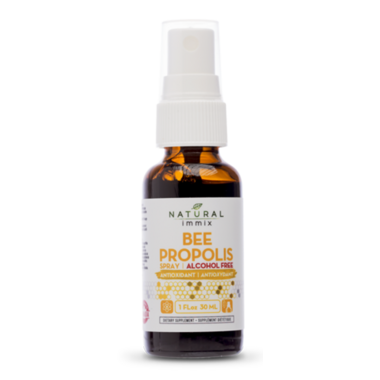 Natural Immix Bee Propolis Alcohol Free
- We're sorry, this product is no longer available!
- Shop for other products in: Bee Supplements

ts impressive antiviral, antibacterial, antiseptic and antifungal properties are some of the main reasons that Bee Propolis has been extensively researched and used as a natural health product dating back to 350 B.C.
Bee Propolis is the strongest antibiotic found in nature. Unlike many antibiotics, Bee Propolis is exceedingly safe and does not destroy good, beneficial bacteria along with bad bacteria and has no known side effects, contraindications or upper limits of ingestion. Bee Propolis does not cause the body to build up a tolerance over time, meaning it can be used regularly without losing effectiveness.
It is useful for canker sores, sore throats and infections caused by bacteria, viruses, fungus, and single-celled organisms called protozoans. Bee Propolis is also helps boost the immune system and can improve gastrointestinal (GI) problems including Helicobacter pylori infection.
Bee Propolis is an antioxidant and anti-inflammatory agent and it can be applied directly to the skin for wound cleansing, for cold sores, as a mouth rinse for speeding healing following oral surgery, and for treatment of minor burns.
Bee Propolis has also captured the attention of those wanting to enhance their overall, general health because it contains many nutrients such as protein and amino acids, trace minerals - magnesium, calcium, phosphorus and potassium - plus antioxidants such as beta carotene and bioflavoniods, as well as vitamins B1 and B2.

Directions:
Spray 1 time into mouth and throat, 2-3 times daily or as directed by a qualified health care practitioner.
1 Spray = 1 ml.

Ingredients:
Bee propolis Extract, USP Glycerine, Caramel and Purified Water.

Caution:
Do not use if pregnant or breastfeedsing