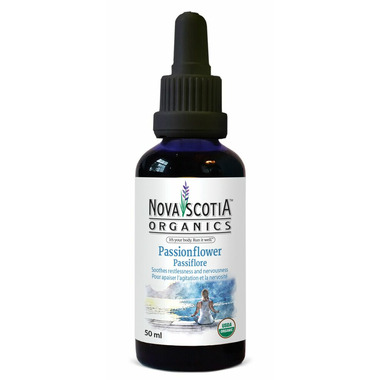 Description
Naturally Nova Scotia's Milk Thistle tincture is traditionally used for the relief of nervous restlessness, anxiety and sleep disorders.
The herbs contained in Naturally Nova Scotia's certified organic herbal tinctures are of the highest quality and are processed using cold temperature techniques to preserve the naturally inherent active ingredients.
Botanicals found in whole herbs co-exist with natural plant complexes. This ensures the stability and related bioavailability and activity of the various active ingredients. Naturally Nova Scotia's organic herbal tinctures are an excellent source of potent, non-synthetic, bioavailable, herbal botanicals.
Naturally Nova Scotia's herbal remedies paired with the presence and synergistic effect of Nature's stabilizers (inherent plant complexes) make Naturally Nova Scotia's herbals a preferred line of tinctures.
Ingredients
Certified Organic Freeze-dried Passionflower aerial parts (1:5)... 2 ml
(Passiflora incarnata) 0.4 g dried equivalent
Non-Medicinal Ingredients
25-35% Organic ethyl alcohol derived from sugar cane.
Directions
Take 5ml, 3 times per day. Shake well before using. Sedimentation is normal
Cautions & Warnings
Consult a health care practitioner prior to use if you are pregnant or breastfeeding, if sleeplessness persists continuously for more than 3 weeks (chronic insomnia), or if symptoms worsen. Consumption with alcohol, other drugs or natural health products with sedative properties is not recommended. May cause drowsiness and inhibit the ability to drive or operate heavy machinery. Discontinue use if hypersensitivity or discomfort occurs. Keep out of reach of children.
Storage
Keep out of reach of children. Store between 15° and 25°C in a dark place. Do not use if security seal is broken
Highlights

Shipping & Returns