Nature's Bounty Osteo Bi-Flex Gold with Vitamin D
80 Easy to Swallow Coated Caplets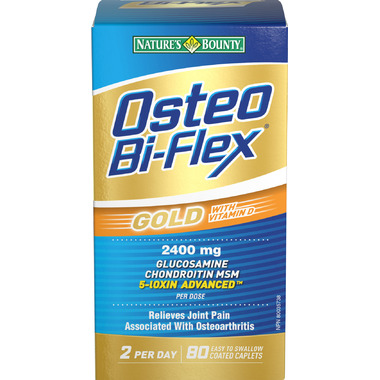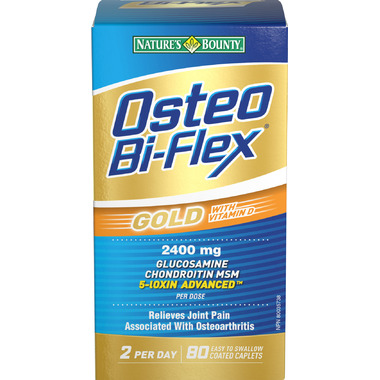 Nature's Bounty Osteo Bi-Flex Gold with Vitamin D
80 Easy to Swallow Coated Caplets
Joints help your body walk, run, bend and basically anything else you want to do. Help stay ready for action by adding Osteo Bi-Flex® with Vitamins C and D to your daily routine. With a combined 2400 mg of Glucosamine + Chondroitin + MSM and 5-Loxin AdvancedTM per dose, it helps relieve joint pain associated with Osteoarthritis. The addition of Vitamin D also helps in the development & maintenance of bones
Features:
Improves joint function.
Helps to maintain healthy cartilage and joint health.
Helps in the development & maintenance of bones.
Contains 2400mg of Glucosamine Chondroitin MSM and 5-Loxin Advanced per dose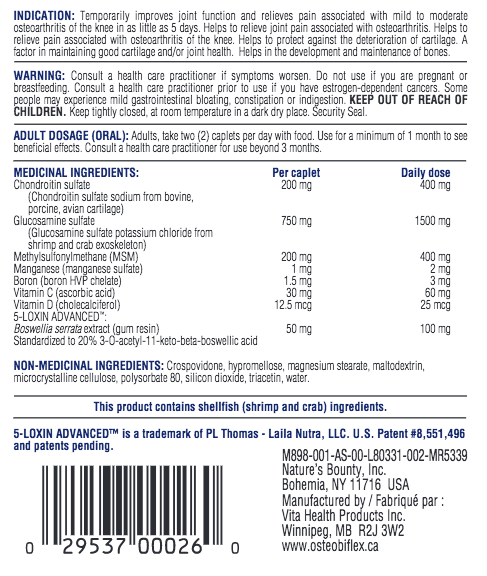 Diana:
more than a year ago
My husband developed osteoarthritis in his left knee in 2009. There were fantastic coupons available for OsteoBiFlex at that time. I bought some and he tried it. Within 2 to 3 weeks his pain dissapated. He has taken 2 tablets every day for the last 4 years and is pain free. The vitamin D and C are a great bonus because he would not be one to take vitamins on their own. This product gets a 5 out of 5 from Dr. Wife.
Page
1