Nature's Plus
Nature's Plus Animal Parade Children's Chewable Calcium
Vanilla Sundae 90 Tablets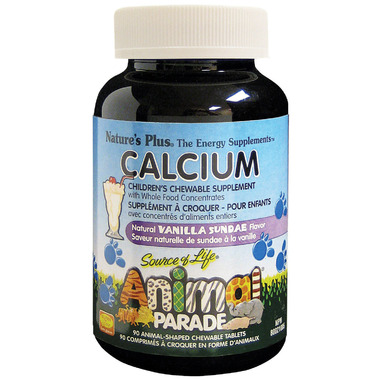 Nature's Plus
Nature's Plus Animal Parade Children's Chewable Calcium
Vanilla Sundae
90 Tablets
---
Description
The rapid growth and active lifestyle of most children demand ongoing effective nutrition for energy, strength, and general well-being. Animal Parade Calcium addresses those needs perfectly. Animal Parade Calcium, with whole food concentrates and the classic taste of delicious sundae vanilla is convenient, like all Nature's Plus chewables. Get added peace of mind knowing your child is not taking just any supplement, but one with the widely known "Nature's Plus" stamp of quality.

Each chewable animal-shaped tablet contains:
Medicinal Ingredients:
Calcium (calcium carbonate) 125 mg
Magnesium (magnesium oxide) 25 mg

Non-Medicinal Ingredients: fructose, hydrolyzed rice protein, natural vanilla, spinach, broccoli, fig, date, stearic acid and magnesium stearate. Contains trace amounts of casein (a milk derivative).

Shipping & Returns