Nature's Way Zinc Lozenges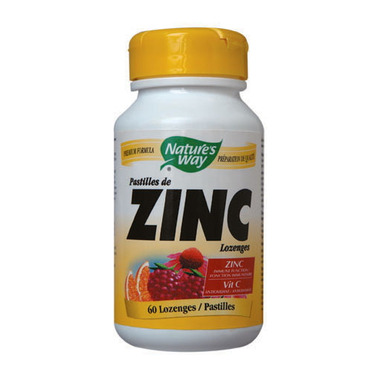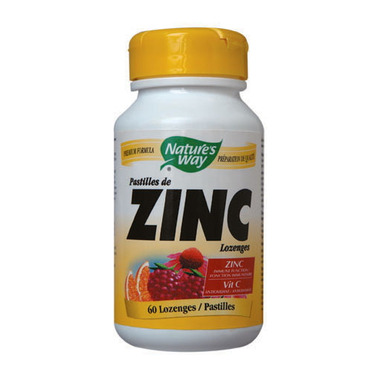 Nature's Way Zinc Lozenges
Zinc helps to maintain immune function and Vitamin C is an antioxidant for the maintenance of good health. Combine them into a delicious berry-flavoured lozenge and you've got a super supplement for when you're feeling sick.
Directions:
Adults take 1 lozenge twice daily. Allow to dissolve slowly in the mouth. Consult a health care practitioner for use beyond 8 weeks.
Medicinal Ingredients (per capsule):
Echinacea purpurea L. Moench stem, leaf & flower ... 20 mg
Vitamin C (Ascorbic Acid) ... 100 mg
Zinc (Citrate, Gluconate) ... 23 mg
Other Ingredients:
Fructose, magnesium stearate, mannitol, mixed berries natural flavour, natural vanilla flavour, sodium bicarbonate, sorbitol, stevia rebaudiana leaf.
Warning:
Consult a health care practitioner if symptoms persist or worsen. Consult a health care practitioner prior to use if you have a progressive systemic disease such as tuberculosis, leucosis, collagenosis or multiple sclerosis or if you are taking immunosuppressants.
Contra-Indications:
Do not take if you have allergies to plants of the Asteraceae / Compositae (daisy) family.
Known Adverse Reactions:
Hypersensitivity/allergy has been known to occur, in which case, discontinue use. Zinc supplementation can cause copper deficiency.

Anna:
a few months ago
These have saved me from a cold so many times! I deal with a lot of people at work and used to get sick at least 3 times a year. I haven't had a cold since last January after starting to take this zinc supplement. I have tried ginger, garlic, lemon, echinacea by itself, oregano oil etc. but this has been the best. I don't take it every single day, but when I feel slight hints of a cold such as sore throat or stuffiness. As long as I detect the signs of cold early on, these have been amazing at fighting it.
1