NeoStrata Wrinkle Repair Moisturizing CC Cream SPF 30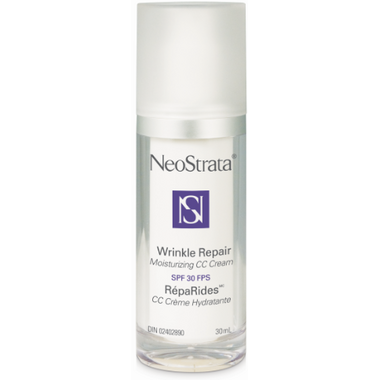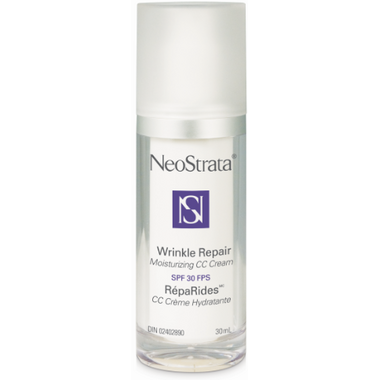 NeoStrata Wrinkle Repair Moisturizing CC Cream SPF 30
NeoStrata Wrinkle Repair Moisturizing CC Cream SPF 30 boasts all the wrinkle-fighting, moisturizing and sun protection benefits of Wrinkle Repair Moisturizing Cream SPF 30. What sets it apart? The light-reflecting pigments that immediately work to conceal imperfections and deliver a sheer universal tint.
Ideal for:
All skin types
Visible wrinkles
Age 40+
Results:
Reduces the appearance of wrinkles
Protects skin from environmental aggressions and UVA & UVB rays
Improves skin tone and texture while moisturizing
Helps smooth the look of wrinkles
Immediately conceals imperfections and illuminates the skin with its universal tint
Key Ingredients:

Matrixyl® 3000 (5%), Peptide Q10™ (0.5%) and retinol (0.1%) moisturize and work together to help improve the look of wrinkles and reverse the visible signs of aging. This cream contains 5.6% of this powerful blend.
The MicroDelivery™ System protects the retinol to optimize its benefits while minimizing irritation.
The light-reflecting pigments immediately illuminate the skin for a radiant complexion.
SPF 30 protects against UVA and UBV rays.

Judy:
more than a year ago
This cream works quite well and seems to agree with my mature, combination but sensitive skin. It provides good coverage and evens out complexion without looking heavy (you need only a little bit). I found that if you use a moisturizer first, it needs to be a very light one and thoroughly absorbed before applying the CC cream. Will probably buy again.
Shelley:
more than a year ago
Would not recommend this NeoStrata product. I have very sensitive skin & I've used many NeoStrata products & have always been really satisfied with them. So I paid the big bucks to try it out, expecting it to be as good as usual. I found it to be fairly oily after application, & didn't really ever dry. I ended up having to use a powder to "Matte" it. It could be streaky if not carefully applied. After using it daily for about 10 days, I found I got some quite severe break-outs on my nose & chin from this product. It also really bothered my eyes after application tho I was careful not to go near the eye socket. Burned & stung (I'm assuming it migrated down to eyes with heat & humidity). The bottle it was packaged in came apart after 2 weeks, separating a clear plastic outer shell from the inner product container. This is the first time I have been unhappy with a NeoStrata product. But I certainly would not ever buy this again.
Page
1