Nova Scotia Organics Healthy Heart Formula


USDA Certified Organic plant based support for healthy heart muscle and function, including well known plants, fruits and extracts-- and a few lesser known holistic ingredients. Combining Garlic, Cayenne, Amla, Hawthorn Berry, Holy Basil extract, Lemon Peel extract and Lantana extract, the Nova Scotia Organics Healthy Heart Formula puts a robust nutritional tool in the hands of proactive consumers concerned about heart health.

Features:
Dairy free
Gluten free
GMO free
Herb/Herbal
Magnesium Stearate free
No Fillers
Peanut free
Soy free
Superfood
Synthetics free
USDA Certified Organic
Vegetarian
Whole Food
How to Use (Adults):
Use for a minimum of 2 months to see beneficial effects.
Cautions and Warnings: Consult your health care practitioner prior to use if you: are pregnant or breastfeeding, have diabetes, are taking blood thinners or protease inhibitors, if you have stomach ulcers/inflammation, are taking cardiac glycosides such as digitalis/digoxin, or blood pressure medication. Contact a health care practitioner if symptoms persist or worsen. Hypersensitivity is known to occur, in which case discontinue use. Folate supplementation may mask Vitamin B12 deficiency. Consult a health care practitioner if you are uncertain whether you are taking adequate Vitamin B12. Keep out of reach of children. Store between 15 and 25 degrees celsius in a dark dry place. Do not use if safety seal is damaged.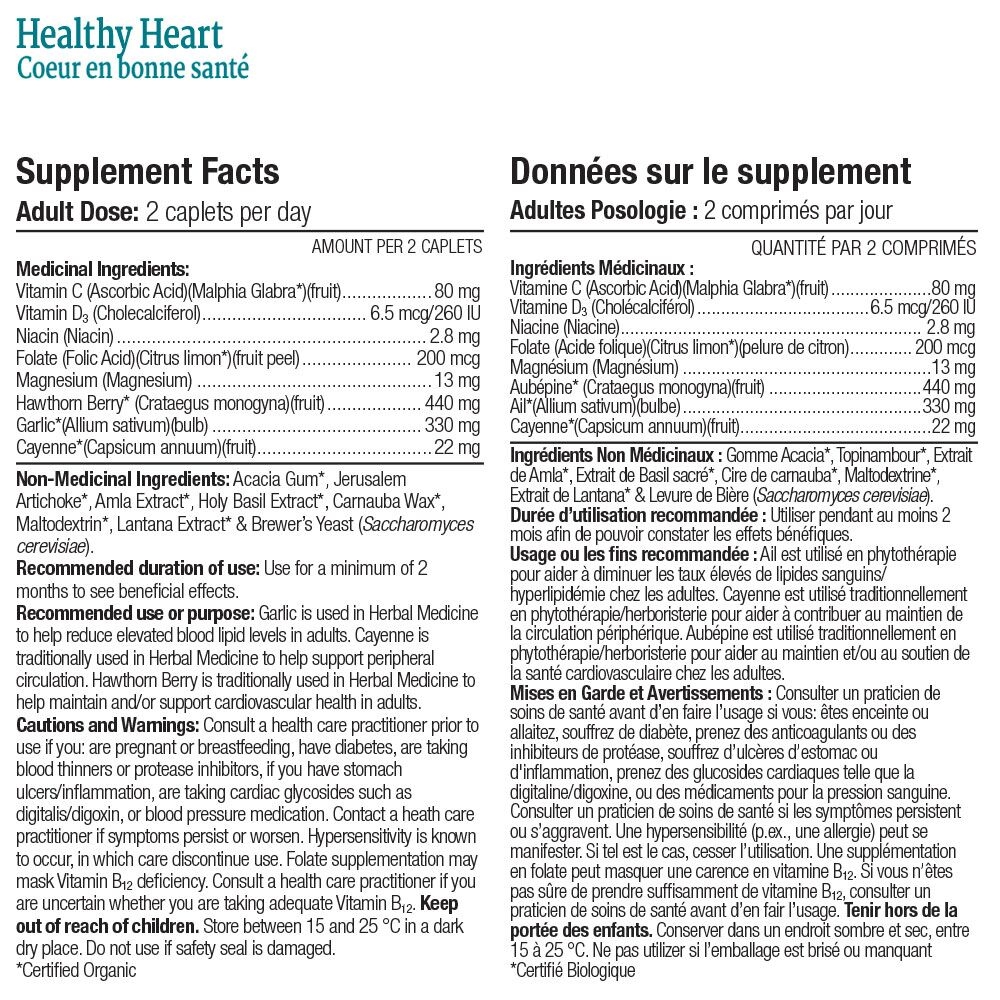 Medicinal Ingredients:
Vitamin C (Ascorbic Acid)(Malphia Glabra)(fruit) - 80 mg
Vitamin D3 (Cholecalciferol) 6.5 mcg/260 IU
Niacin - 2.8 mg
Folate (Folic Acid)(Citrus limon)(fruit peel) - 200 mcg
Magnesium - 13 mg
Hawthorn Berry (Crataegus monogyna)(fruit) - 440 mg
Garlic (Allium sativum)(bulb) - 330 mg
Cayenne (Capiscum annuum)(fruit) - 22 mg
Non-Medicinal Ingredients:
Acacia Gum, Jerusalem Artichoke, Amla Extract, Holy Basil Extract, Carnauba Wax, Maltodextrin, Lantana Extract and Brewer's Yeast (Saccharomyces cerevisiae).