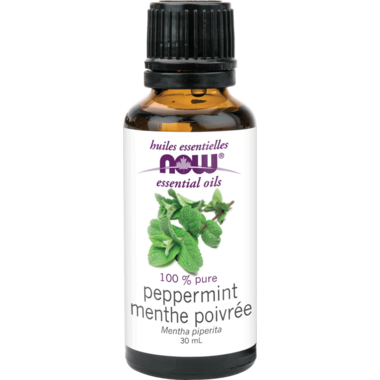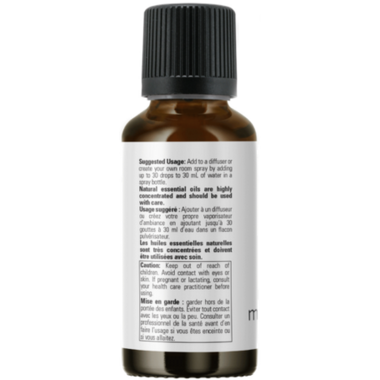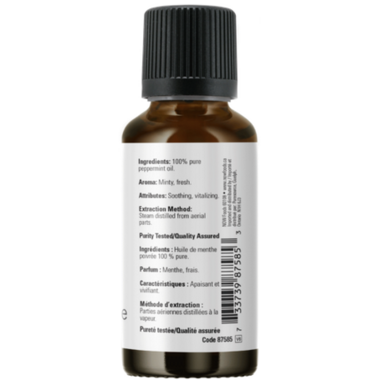 100% Pure
30 mL
NOW Essential Oils Peppermint Oil
is rated out of
5
by
21
.
---
Description
NOW Essential Oils Peppermint Oil has a brisk, uplifting aroma which has been enjoyed for centuries, in both aromatherapeutic and culinary applications. Peppermint can be invigorating, cooling and rejuvenating. NOW Peppermint Oil is 100% pure, and steam distilled from fresh peppermint leaves.
Directions: For fragrance purposes. For all other uses, carefully dilute with a carrier oil such as jojoba, grapeseed, olive, or almond oil prior to use. Please consult an essential oil book or other professional reference source for suggested dilution ratios.

Caution: Keep out of reach of children. Avoid contact with skin or eyes. If pregnant or lactating, consult your healthcare practitioner before using. Natural essential oils are highly concentrated and should be used with care.

Highlights

Features
100% pure Mentha piperita
Aroma: Fresh, strong mint.
Attributes: Revitalizing, invigorating, cooling.
Mixes Well With: Eucalyptus oil, juniper berry oil, pine needle oil, rosemary oil.
Extraction Method: Steam Distilled from plant's leaves.
Hexane free
Ingredients
Pure peppermint (Mentha piperita) oil
Rated

1

out of

5
by
ZenfulXen
from
Could not open bottle
It probably smells good but i'll never know- because i cannot open the bottle. i noticed right away the white plastic part is sticking out further down than any other 'now' bottle i purchased, and sure enough, no amount of twisting, squeezing, etc would make it budge- the lid just spins over the plastic underneath. I gave up after getting blisters (and no, i'm not a newbie- i have over 50 essential oil bottles from all kinds of brands including this one and never had this happen)-maybe its a fluke but still, who wants to get a defective bottle? I was really counting on it to restock my anti-migraine roll on mix I make. Sad...
Date published: 2022-03-08
Rated

5

out of

5
by
eileenelisha
from
Peppermint Oils
Loved peppermint oils, cause it smells great in the house especially during summer time as it does gets rid of insects or any kind of crawlies in and out of house. Just add ten drops of peppermint oil, with a medium size spray bottle fill with water and a couple drops of Dawn detergent, shake it up and spray. It helps my balcony free from flying insects or spiders. It's non toxic.
Date published: 2021-06-10
Rated

5

out of

5
by
Demiana
from
Love it
It helps me to reduce migraine headache pain. I put a drop of it or a small amount. This product makes a little numbs in the pain area so I can take a rest from the pain for a while.
Date published: 2021-04-28
Rated

5

out of

5
by
Mamamel
from
Minty!!
Love this oil which I use to make my own room spray. I add about 30 drops to some water wirh a capful of pure witch hazel and it smells so refreshing! Have repurchased many times.
Date published: 2022-02-11
Rated

5

out of

5
by
HL Williamsom
from
My favourite
The NOW essential oil brand is my all-time favourite because of its superior quality and affordability. I purchase the peppermint essential oil on a regular basis.
Date published: 2022-12-04
Rated

5

out of

5
by
Darla Lama
from
I add drops of this oil on cotton balls and place them here and there around the house. Everyone love the smell and notice on it. It's amazing indeed
Date published: 2021-06-23
Rated

4

out of

5
by
Capegirl
from
Love my peppermint oil!
Peppermint is my go to always, I use it in unscented lotions, a roller bottle diluted. With coconut oil in the summer time on hot days to cool down.
Date published: 2021-06-09
Rated

5

out of

5
by
Caitlin
from
great product
just in time for Christmas, I love changing around scents in my diffuser and this one is perfect for the winter season! quality oil and smell
Date published: 2020-11-28