NOW Foods 5-HTP with L-Tyrosine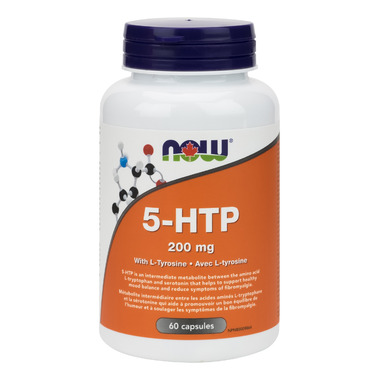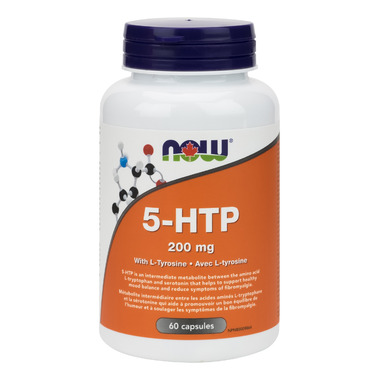 NOW Foods 5-HTP with L-Tyrosine
5-HTP, the intermediate metabolite between the amino acid L-tryptophan and serotonin, is extracted from the bean of an African plant (Griffonia simplicifolia).

Suggested Usage: As a dietary supplement, take 1 Vcap daily, preferably on an empty stomach at bedtime. Consider taking this product in combination with NOW Valerian Root, Relora and Pantothenic Acid.
Ingredients (per capsule):
Niacin (as Niacinamide) (Vitamin B-3) ... 20 mg
Vitamin B-6 (from Pyridoxine HCl) ... 2 mg
5-HTP (5-hydroxytryptophan) (Griffonia simplicifolia) (Seed) ... 200 mg
L-Tyrosine ... 200 mg
Glycine ... 100 mg
Taurine ... 100 mg
Inositol ... 100 mg
Other Ingredients: Cellulose (capsule), Ascorbyl Palmitate and Silica.

Contains no: sugar, salt, wheat, gluten, soy, milk, egg, shellfish or preservatives. Vegetarian/Vegan Product.

Caution: If you are pregnant/lactating or currently taking any antidepressant medications please consult your healthcare practitioner prior to use. May cause drowsiness.
Dosage: 200 mg


Kim:
about a year ago
This is the only 5-HTP with L-Tyrosine I have been able to find with capsules that have 200 mg. It is very cost effective because I don't have to take as many capsules and the best part is, it works. If I stop taking it, I have trouble sleeping and my mood goes out of control. I have been using this for about 4 months and I highly recommend it.
Page
1