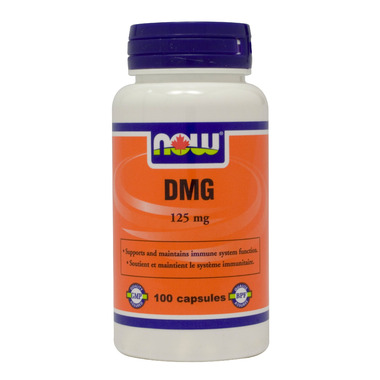 Description
Lending itself to a number of areas, DMG (Dimethylglycine) has been known to promote protein synthesis, boost the immune system and aid in the production of glutathione to name a few. Also known as Pangamic Acid, DMG is a derivative of the amino acid Glycine. DMG is an important methyl donor that participates in numerous biochemical pathways and is important for glutathione synthesis. It may also helps to support optimal cellular oxygen utilization, promote the neutralization of free radicals and support lymphocyte production.

Suggested Use: As a dietary supplement, take 1 capsule 1 to 3 times daily, preferably with meals.
Medicinal Ingredients: N,N-Dimethylglycine 125mg
Non-Medicinal Ingredients: Hypromellose, Magnesium Stearate, Rice flour, Water
Caution: Consult a healthcare practitioner prior or use if you have epilepsy or autism. Do not take if you are pregnant or breastfeeding.

Highlights

Shipping & Returns