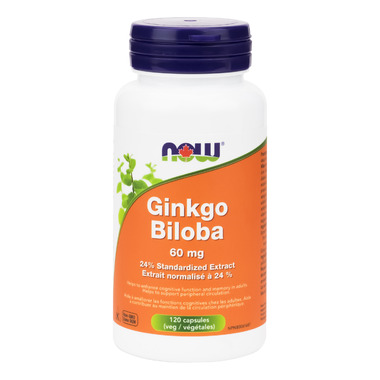 Description
Improves Cognitive Function and Memory. As the population ages, products to maintain cognitive function and improve memory are increasingly in demand. This vegetarian formula will appeal to people with diverse dietary and cultural sensitivities.

Ingredients (each capsule contains):
Ginkgo Biloba Leaf Extract (G. biloba L.) (50:1)……………60 mg
(Standardized to Contain 24% Ginkgoflavonglycosides & 6%Terpene Lactones)
Ginkgo Biloba (G. biloba L.) (Leaf)……………………………………270 mg

Non-Medicinal Ingredients: Veg Capsule (vegetable polysaccharide, water, carrageenan, potassium chloride), Magnesium Stearate (vegetable source)

Directions: Adult Dosage: Take 1 capsule 2-3 times daily. Consult a health care
practitioner for use beyond 4 weeks. Do not use if you have a known hypersensitivity to Ginkgo biloba. Consult a health care practitioner prior to use if you are taking medications for diabetes, high blood pressure, or seizures. Do not use if you are pregnant or breastfeeding. Do not use if you are taking health products that affect blood coagulation (e.g. blood thinners, clotting factor replacements, acetylsalicylic acid, ibuprofen, fish oils, vitamin E) as this may increase the risk of spontaneous bleeding.


Highlights

Shipping & Returns