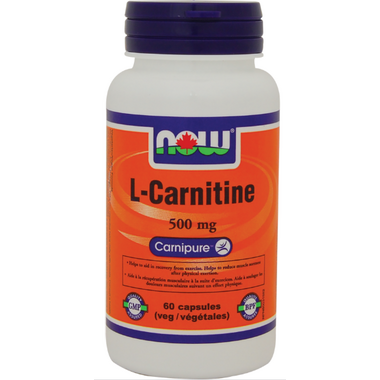 Description
L-Carnitine is a non-essential amino acid that helps to maintain overall good health by facilitating the transfer of fatty acid groups into the mitochondrial membrane for cellular energy production. It naturally occurs in red meat and other animal source foods, but we recommend supplementation to obtain optimal levels of this excellent amino acid.
Features:
Helps to aid in recovery from exercise
Helps to reduce muscle soreness after physical exertion
Vegetarian/Vegan
Directions: Take two capsules twice daily with meals. Consult a health care practitioner for use beyond 3 weeks.

Ingredients (each capsule contains):
Carnitine …………………………………………….. 500 mg
(From L-Carnitine Tartrate) (Carnipure™)
Non-Medicinal Ingredients:
Veg Capsule (hypromellose, water), Cellulose, Magnesium Stearate, Silica.
Risk Information:
This product provides 2 g of single amino acid per day. Consult a health care practitioner prior to use if you have liver or kidney disease or if you have been instructed to follow a low protein diet. Mild gastrointestinal symptoms (transient nausea, vomiting, abdominal cramps, and diarrhoea) have been reported. Low incidences of seizures have been reported with oral doses in individuals with or without pre-existing seizure disorders. Do not use if you have primary systemic L-carnitine deficiency or secondary L-carnitine deficiency (inborn errors of metabolism) for which levocarnitine supplementation is prescribed and/or monitored by a healthcare practitioner. Do not use if you are pregnant or breastfeeding.
Highlights

Shipping & Returns