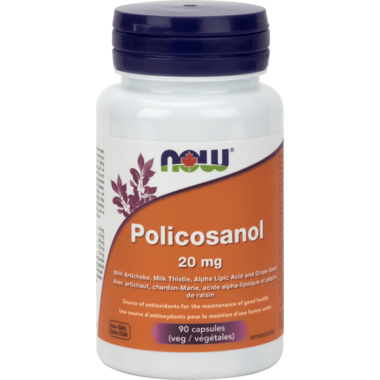 Description
NOW Foods Policosanol is a blend of long-chain fatty alcohols (LCFA) derived from sugar cane, a superior source of these natural plant waxes and antioxidants. This formula also includes herbs such as Artichoke and Milk Thistle that are known to support healthy liver function.
Features:
Antioxidants for the maintenance of good health
With Artichoke, Milk Thistle, Alpha Lipoic Acid (ALA) and Grape Seed
Vegetarian / Vegan
Egg free
Directions:
Adult Dosage: Take 1 capsule, 1-2 times daily with meals.

Ingredients:
Each capsule contains:
Policosanol (from Sugar Cane wax) 20 mg
Grape Seed (Vitis vinifera L.) 30 mg
Artichoke (Cyanara scolymus L) Leaves 100 mg
Milk Thistle (Silybum marianum L) Seeds 100 mg
Alpha Lipoic Acid 50 mg
Non-Medicinal Ingredients:
Veg Capsule (vegetable polysaccharide pullulan), Maltodextrin, Rice Flour, Magnesium Stearate (vegetable source) and Silica. Contains soy derivative.
Caution:
Consult a healthcare practitioner prior to use if you have impaired liver function, gallstones or if you are taking anti-coagulants (such as warfarin) or anti-platelet drugs (such as acetylsalicylic acid, ASA), or if diarrhea persists. Do not use if you are pregnant or breastfeeding, are allergic to the Asteraceae/compositae family, have active renal disease, diagnosed neoplastic disease, unstable angina, severe hypertension, bile duct obstruction, are taking anti-diabetic drugs or are undergoing chemotherapy. May cause dizziness, fatigue, constipation, increased flatulence, diarrhea, muscle cramps, nausea and abdominal pain. Hypersensitivity, such as allergy, has been known to occur, in which case, discontinue use.
Highlights

Shipping & Returns