NOW True Focus Veg Capsules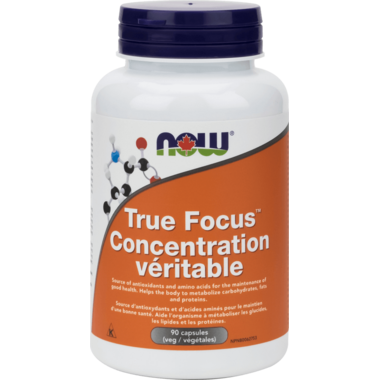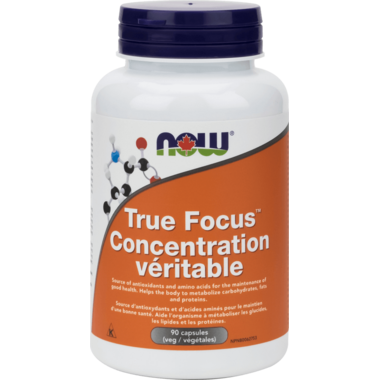 NOW True Focus Veg Capsules
NOW True Focus Veg Capsules combines Norepinephrine and Dopamine with other ingredients like Ginkgo Biloba and DMAE to complement this formula. Norepinephrine and Dopamine are key neurotransmitters for the maintenance of alertness and mental acuity, and for promoting a feeling of general well-being. These two neurotransmitters are produced in the body from the amino acid precursors L-Tyrosine and L-Phenylalanine. This conversion process also requires co-factors such as Vitamin B-6 and Vitamin C (Potassium Ascorbate).
Features:
Source of antioxidants and amino acids for the maintenance of good health
Helps the body to metabolize carbohydrates, fats and proteins
Supports mental function
With L-Tyrosine, L-Phenylalanine, Taurine, and DMAE
Egg free, soy free

Directions:
Adult Dosage: Take 1-2 capsules, 1-2 times daily. For occasional use only.
Ingredients:
Each capsule contains:
L-Tyrosine 400 mg
L-Phenylalanine 150 mg
Taurine 50 mg
Grape Seed Extract (Standardized for Polyphenols) 40 mg
DMAE (dimethylaminoethanol) 30 mg
Ginkgo Biloba (Leaf) Extract (24% flavonoglycosides & 6% Terpene Lactones) 20 mg
Vitamin B6 (from Pyridoxine HCl) 6 mg
CoQ10 (Coenzyme Q10) (as Ubiquinone) 5 mg
Non-Medicinal Ingredients:
Veg Capsule (hypromellose, water), Potassium Ascorbate, Magnesium Stearate and Silica
Caution:
Consult a health care practitioner prior to use if you are taking (anti)cholinergic drugs, medications for diabetes, high blood pressure, or seizures, if you have epilepsy, affective disorder, Parkinson's, a psychiatric or neurological disorder such as, but not limited to, depression, schizophrenia, seizure disorders, if you have a history of alcohol abuse, or are following a low protein diet. If you experience a change in mood, headache, muscle tension, affective symptoms, drowsiness, insomnia or confusion, discontinue use. Do not use if you are pregnant or breastfeeding, or if you are taking health products that affect blood coagulation (e.g. blood thinners, clotting factor replacements, acetylsalicylic acid, ibuprofen, fish oils, Vitamin E) as this may increase the risk of spontaneous bleeding.