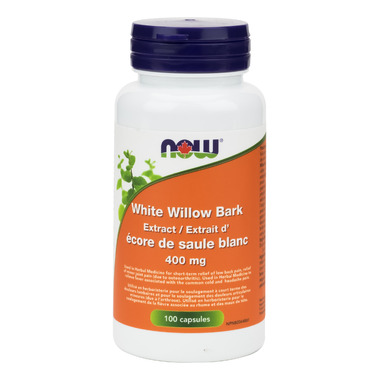 Description
You work hard, and so do your bones and joints. Keep them working at their best with White Willow, containing a collection of compounds that promote healthy responses to physical strain.

White Willow is a shrub with a long history of traditional use. Modern scientific researchers have identified numerous compounds from its bark that contribute to its bioactivity. Of these active compounds, Salicin is best known for its support of the body's healthy response to normal physiological stress. In addition to Salicin, polyphenols and flavonoids have also been found to contribute to its activity. NOW® White Willow Bark has 15% Salicin plus a natural balance of other bioactive compounds that may gently help to temporarily relieve minor pain caused from overexertion and typical everyday stress.
Features:
Used in Herbal Medicine for short-term relief of low back pain, relief of minor joint pain (due to osteoarthritis)

Used in Herbal Medicine to relieve fever associated with the common cold and headache pain
Standardized extract
Medicinal Ingredients: Salix alba 400mg

Non-Medicinal Ingredients: Gelatin, Magnesium Stearate, Stearic Acid
Caution: Consult a health care practitioner prior to use if you experience gastrointestinal symptoms such as nausea, vomiting, abdominal pain, dyspepsia, heartburn or diarrhea discontinue use. Consult a health care practitioner if symptoms persist or worsen or if you have asthma or peptic ulcer disease or if you are taking anticoagulants or products containing acetylsalicylic acid. Known Adverse Reactions: Do not use this product if you are pregnant or breastfeeding or if you are allergic to acetylsalicylic acid (ASA) or other salicylates.

Highlights

Shipping & Returns