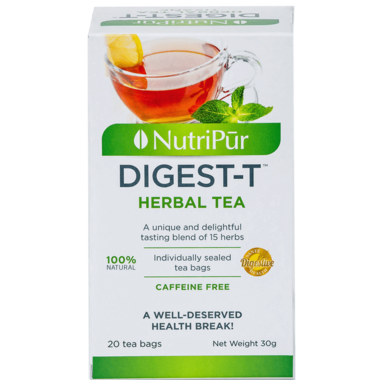 Description
Digest-T herbal tea is a unique and savoury blend of 15 herbs expressly chosen for their therapeutic benefits. This delicious digestive herbal tea will win you over with its rich aroma and calming benefits.
Digest-T is composed exclusively of herbs with no addition of colour, artificial flavour, artificial sweeteners or preservatives. Vegan, gluten free, lactose free, GMO free
Instructions:
Let 1 tea bag steep for 3 to 5 minutes in a cup of boiling water. Drink 2 to 4 cups per day, preferably after meals and in the evening.
Features:
100% Natural
Gluten free
Caffeine free
Ingredients:
Licorice root, Star anise fruit, Boldo fruit, Marshmallow leaf, Dandelion root,
Rhubarb root, Bearberry leaf, Cherry stems, Couch-grass root, Barberry bark, Juniper berry, Spearmint leaf, Red clover flower, Balm leaf, Fennel seed.
It is recommended that if you are pregnant or breastfeeding and for young children to consult your health practitioner before taking herbal supplements. This recommendation also applies to people taking medication or suffering from a health problem.
Highlights

Shipping & Returns
Unfortunately, due to the nature of this item, we cannot accept any returns.
We are only able to ship this item to Canadian customers.
Click here for more information