Nutripur Mom and Baby Omega-3 Plus Orange Flavour
For Pregnancy and Breastfeeding
114 mL Liquid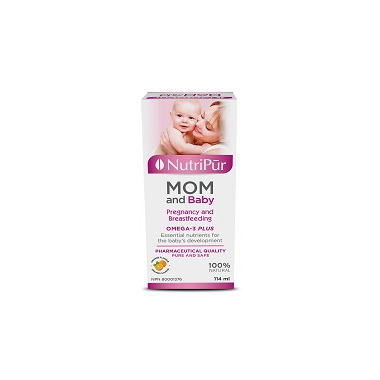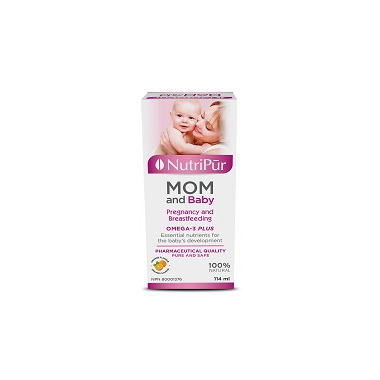 Nutripur Mom and Baby Omega-3 Plus Orange Flavour
For Pregnancy and Breastfeeding
114 mL Liquid
Nutripur Mom and Baby is a prenatal and postnatal formula for pregnancy and breastfeeding. Beneficial for the developing child and newborn, as well as for the mother.
Provides essential nutrients for the development of the brain, nervous system and eyes of the baby during pregnancy and of the newborn during breastfeeding.
Will prevent pregnancy induced depletion of DHA stored in the mother which is associated with post-natal depression.

Features:
Highly concentrated in Omega-3 DHA, EPA, AA & GLA
For pregnancy and breastfeeding mothers
Certified pure
100% natural and safe
For the developing child and a healthy mother
Fights post par-tum depression in mothers
For the developing child and newborn via delivery through breast milk
For the brain and nervous system of the developing baby
Aids in the development of the nervous system