OneCoffee Organic Single Serve Coffee Peruvian Blend Dark Roast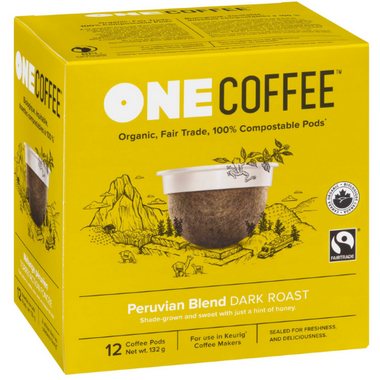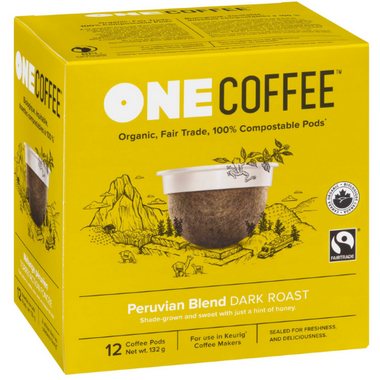 OneCoffee Organic Single Serve Coffee Peruvian Blend Dark Roast
Shade-grown and found in the uppermost regions of Peru, this understated coffee is quickly developing a loyal following and boasts a mildly acidic and rounded body while retaining a sweetness of honey, unfounded in neighbouring countries. Discover OneCoffee. Organic, sustainable, single-serve coffee, roasted in Canada.
A lot goes into every one of their OneCoffee pods. First, they find the right farmers who grow the best, most sustainable beans. Then their Q Grader, one of Canada's only certified coffee experts, tests each batch and makes sure they're roasted to perfection. Finally, they wrap it all up in a 100% compostable pod wearing nothing but a mesh filter – no plastic, no waste, nada.
So kudos to you, coffee drinker. You're helping do good with every sip.
The first pod with organic & fair trade coffee wrapped in a 100% compostable pod*.
Features:
Organic & Fair Trade Certified coffees
Compatible with Keurig® 2.0., Hamilton Beach and Cuisinart brewers

100% Compostable Pod*
Foil-like bag is 100% Compostable*
If your single-serve coffee maker accepts single serve capsules, such as Keurig®, Cuisinart or Hamilton Beach brewers, then OneCoffee cups will work just fine. OneCoffee cups ARE NOT compatible with Keurig® Vue, Tassimo or other 'disc/pod' type brewers.
OneCoffee has an exposed mesh filter and uses 40% less material compared to the leading brand. OneCoffee is 100% compostable* – including a paper lid, a corn-based ring and a mesh filter made of plant materials. The bag holding the 12 pods looks like foil, but is also 100% compostable*. We're the first company in Canada using a compostable bag for pods. These items will compost in a commercial compost that accepts compostable plastics. Thank you for choosing to support the use of renewable resources in compostable plastics rather than oil based plastics.
*BPI certified compostable. For collection in municipal programs, where approved.