Organika Chlorophyll Chewables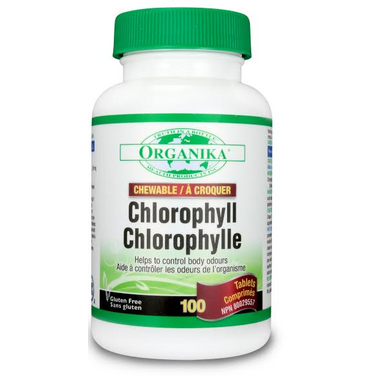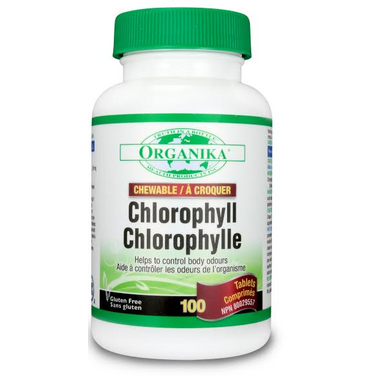 Organika Chlorophyll Chewables
Chilorophyll helps in the control of body odor, and excess perspiration.
Rich source of hemoglobin, essential in red blood cell production for energy support and healthy blood flow.
Alkaline in nature, helping to reduce acidity in the body and reduce fatigue, stress, and improve immunity/general health.
Features:
Energy support and healthy blood flow
Natural
Non-GMO
Fair Trade
Canadian Brand
Contains No:
Soy
Gluten
Dairy
Sugar
Peanuts
Tree Nuts
Animal product
Recommended Dose
: Chew 1 tablet 2 times per day. If odour is not controlled, increase the dosage to 1 tablet three times per day.
MEDICINAL INGREDIENT – EACH CHEWABLE TABLET CONTAINS:
Sodium Copper Chlorophyllin ………………………………………………… 100 mg
NON-MEDICINAL INGREDIENTS:
Sorbitol, Xylitol, Microcrystalline Cellulose, Stearic Acid, Peppermint Leaf Powder, Magnesium Stearate, Hydrolyzed Gelatin, Silica, Maltodextrin. CONTAINS NO: Dairy, egg, artificial preservatives, colours, artificial sweeteners, yeast, wheat, gluten, or soya.
Caution:
Consult a health care practitioner if symptoms persist.
If cramps or diarrhea occurs, reduce dosage. Do not exceed 300 mg daily.
Do not use if you are pregnant or breastfeeding.
May cause discolouration of the tongue, urine and faeces.
May cause cramps or diarrhea.
Chewable tablets may not be suitable to people with certain health or dental conditions.
If you have any health or dental issues, consult a physician, dentist or other health professional before taking this supplement.