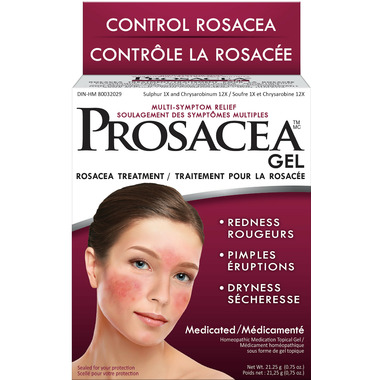 Description
PROSACEA Gel is an effective topical medication for treatment of rosacea symptoms. The moisture-rich formula helps diminish bumps and redness while soothing and conditioning dry, irritated skin. PROSACEA contains no irritating alcohol or petroleum based ingredients. PROSACEA Gel is extremely light, applies easily, and is absorbed thoroughly by the skin with no lingering objectionable odor—you'll hardly know it's on. With daily use as directed, PROSACEA can help provide visible improvement of your rosacea symptoms.

PROSACEA contains sulphur 1x, a medically recognized homeopathic ingredient that, when used as directed, has been recognized to be effective for relief of common rosacea symptoms such as redness, bumps and dryness.

PROSACEA's non-oily formula is non-comedogenic, which means it doesn't cause pimples and won't clog pores. For best results, once treatment is started with PROSACEA, carefully adhere to package directions until satisfactory results are achieved or until given further advice from a doctor.

Shipping & Returns