Rexall Children's Ibuprofen Suspension Liquid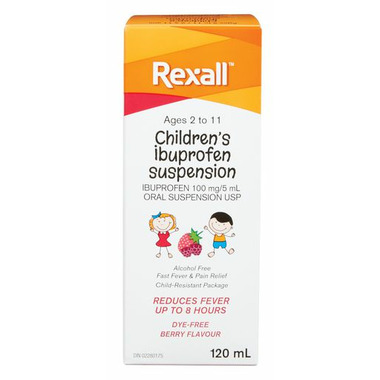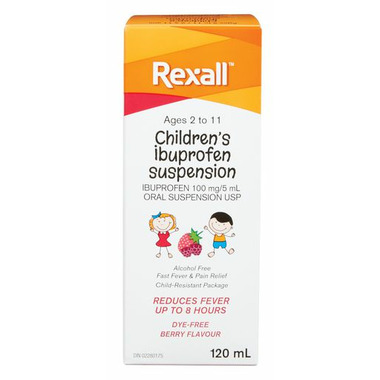 Rexall Children's Ibuprofen Suspension Liquid
The Rexall Children's Ibuprofen Suspension Liquid is an alcohol and dye-free fast fever and pain reliever. It features a child-resistant package, a delicious berry flavour and it can reduce fevers up to 8 hours.

Dosage: SHAKE WELL BEFORE USE. Use enclosed dosage cup. If possible, dose according to body weight. Read leaflet for important information before use. Single dose may be repeated every 6 to 8 hours as needed. Do not exceed 4 doses of ibuprofen per day, unless advised by a physician.
Ingredients: Ibuprofen 100mg, Citric Acid, Corn Syrup, Flavour, Glycerin, Hydroxypropyl Methylcellulose, Polysorbate 80, Purified Water, Sodium Benzoate, Sorbitol, Xanthan Gum
DO NOT USE IF PRINTED BOTTLE WRAP IS BROKEN OR MISSING.