Rexall Ultra Strength Pain Relief Rub No Odour
Triethanolamine Salicylate Cream
100g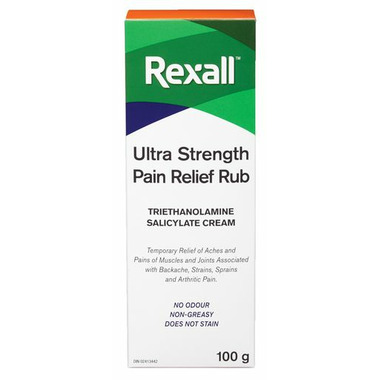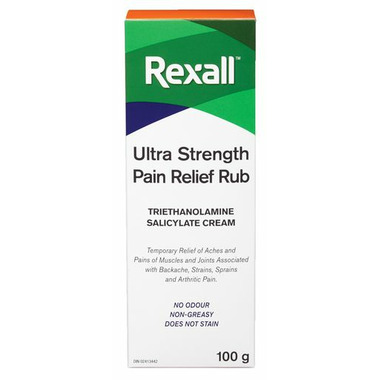 Rexall Ultra Strength Pain Relief Rub No Odour
Triethanolamine Salicylate Cream
100g
Rexall Ultra Strength Pain Relief Rub offers temporary relief of aches and pains of muscles and joints associated with backache, strains, sprains, and arthritic pain. It has no odour, is non-greasy and does not stain.

Dosage: Adults and children 2 years and over: Apply generously to affected area, not more than 3 or 4 times daily. Massage into painful area until completely absorbed. If condition persists for more than 7 days, worsens, or disappears and recurs a few days later, discontinue use and consult a physician. Children under 2 years of age: Consult a physician.
Medicinal Ingredients: Triethanolamine Salicylate 20% w/w. Non-Medicinal Ingredients: Beeswax, cetyl alcohol, cholesterol, dimethicone, glycerin, propylene glycol, purified water, sodium lauryl sulfate, stearyl alcohol, tetrasodium EDTA.