SBT Seabuckthorn Sensitive Skin Soothing Salve
Sensitive, Undernourished, & Reactive Skin
80 g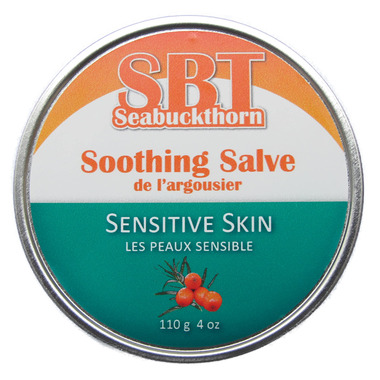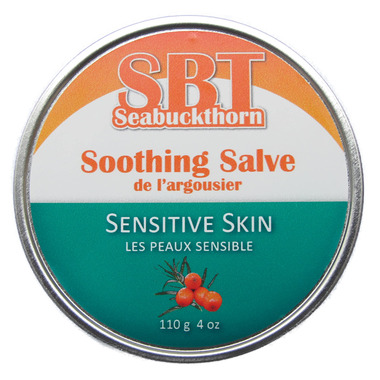 SBT Seabuckthorn Sensitive Skin Soothing Salve
Sensitive, Undernourished, & Reactive Skin
80 g
SBT Seabuckthorn Sensitive Skin Soothing Salve is an all-natural salve especially formulated with generous amounts of SBT Seabuckthorn Seed and Fruit Oils as well as Pomegranate, Rosehip, Helichrysum, Rice Bran, Geranium and Lavender Essential Oils to combat dry, itching, sensitive skin experienced with a variety of skin conditions. This salve can also be used as a protective moisturizer for those with extremely dry & undernourished skin.
Features:

Reduces redness, itching and flaking
Natural anti-inflammatories soothe and cool inflamed sensitive skin
Can be used as a face & body moisturizer and as a balm cleanser
Hydrates & nourishes sensitive/reactive skin
Directions: Soothes, moisturizes, and reduces itch associated with sensitive skin. Apply liberally to clean sensitive skin.
Ingredients: Coconut Oil, Candelilla Wax, Cocoa Butter, Organic SBT Seabuckthorn Seed Oil, Organic SBT Seabuckthorn Fruit Oil, Pomegranate Oil, Rosehip Oil, Helichrysum Oil, Rice Bran Oil, Geranium Oil, Lavender Oil

Made in Canada, Gluten Free, Soy Free, Natural, Vegan, Nut Free, Sugar Free