SBT Seabuckthorn Sniffle Stick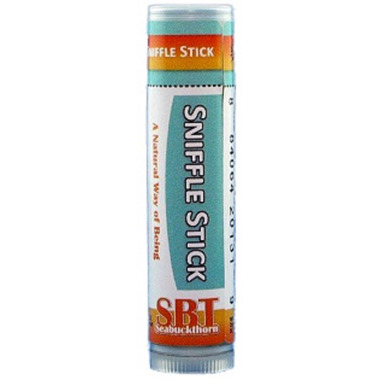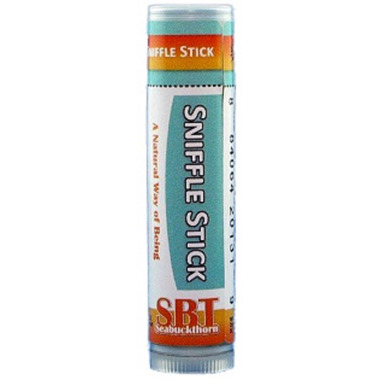 SBT Seabuckthorn Sniffle Stick
The SBT Seabuckthorn Sniffle Stick is an all natural solution for the discomfort of colds and flu in a convenient to use tube.
Each aromatic oil was carefully selected for its particular activity in supporting the body's recovery from colds and flu. Eucalyptus for nasal congestion, Ravintsara for pulmonary congestion, Ravensara for the throat and Peppermint oil for sinus congestion. Sea buckthorn oils heal raw, tender skin. Effective at clearing and soothing stuffy heads and congested chests.
Features:
All natural, petroleum free decongestant chest, nose & throat balm
Contains decongestant, antiviral & analgesic essential oils
Seabuckthorn Oils heal raw, chapped skin
The addition of peppermint essential oil makes this a great natural solution for headaches
Safe for children and babies
Apply to chest, neck, and nose as often as required.

Ingredients:
Coconut Oil, Beeswax, Eucalyptus Oil, Sea buckthorn Seed Oil, Peppermint Oil, Ravintsara Oil, Ravensara Oil, Sea buckthorn Fruit Oil, and RSPO Certified Sustainable Palm Oil.
Natural, Petroleum Free, Gluten Free, Sugar Free, Dairy Free, Peanut Free Product, Tree Nut Free Product, Canadian Brand.