Swiss Natural Overactive Bladder with Go Less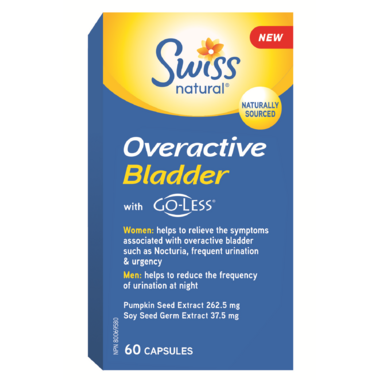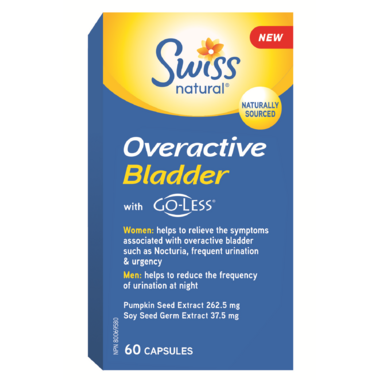 Swiss Natural Overactive Bladder with Go Less
- We're sorry, this product is no longer available!
- Shop for other products in: Other Supplements

Swiss Natural Overactive Bladder with Go Less helps both men and women with overative bladders. For Women, it helps to relieve symptoms associated with overactive bladder such as Nocturia, frequent urination and urgency. For Men, it helps to reduce frequency of urination at night.

Dosage: Adults take 2-3 capsules daily or as directed by a healthcare practitioner. Take a few hours before or after taking other medications or health care products. For use beyond 12 weeks, consult a healthcare practitioner.

Each capsule contains:
Medicinal Ingredients: Pumpkin Seed Extract (20:1) (2-7% polyphenols as enterodiol) Cucurbita pepo…262.5 mg* *5,250 mg dried herbal equivalent
Soy Seed Germ Extract (30:1) (4.5%-6% total isoflavones) Glycine max…37.5 mg* *1,125 mg dried herbal equivalent

Consult a healthcare practitioner if symptoms persist or worsen; if you are pregnant or breastfeeding; if you are attempting to conceive; if you are taking blood thinners or due to possible estrogenic effect; if you have a liver disorder or develop liver-related symptoms (e.g. abdominal pain, jaundice, dark urine); have a history of hormonal disease, including prostate or breast cancer or gynaecological disease, including ovarian cancer or if you are taking hormone replacement therapy (HRT), including thyroid hormone replacement therapy. Discontinue use and consult a healthcare practitioner if you experience breast pain, discomfort and/or tenderness; if you experience a recurrence of menstruation and or uterine spotting; if you experience breast swelling, erectile dysfunction and/or changes in mood, libido or hair growth. Do not use if you currently have or previously had prostate or breast cancer and/or breast/prostate tumours or if you have a predisposition to breast/prostate cancer, as indicated by an abnormal mammogram and/or biopsy, or a family member with breast cancer. Hypersensitivity/allergy has been known to occur; in which case, discontinue use.