Terry Naturally CuraPro Optimum
Anti-Inflammatory
60 Softgels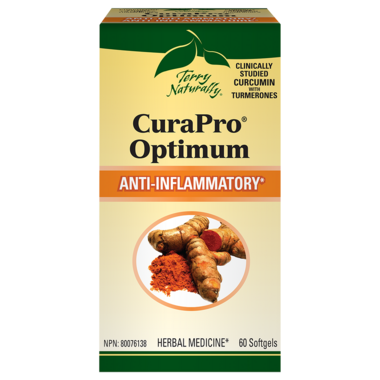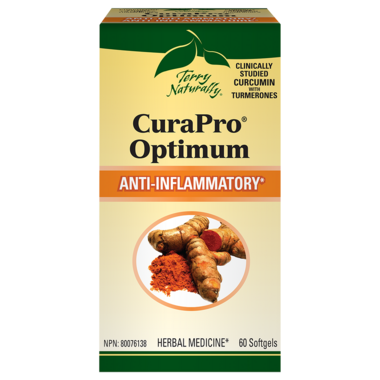 Terry Naturally CuraPro Optimum
Anti-Inflammatory
60 Softgels
Curapro® Optimum is a clinically studied curcumin used in 31 published studies. This unique, patented curcumin is blended with turmeric essential oil containing turmerones to enhance absorption and works as an anti-inflammatory to relieve joint pain. Turmeric is (traditionally) used in Herbal Medicine as an anti-inflammatory to help relieve joint pain.
Directions:
Take 1 softgel daily.
Medicinal Ingredients:
Curcuma longa (Turmeric (BCM-95®)) 25:1 rhizome extract, dried equivalent 16,250mg, providing 559mg curcuminoids…650mg

Non-Medicinal Ingredients:
Medium chain triglycerides, gelatin, glycerin, lecithin, beeswax yellow, purified water, sunflower oil.
Caution:
Consult a healthcare practitioner prior to use if you are pregnant, if you have stomach ulcers or excess stomach acid, gallstones or a bile duct obstruction, if you are taking antiplatelet medication or blood thinners. Some people may experience mild gastrointestinal disturbances. Consult a healthcare practitioner if symptoms persist or worsen. To be sure this product is right for you always read and follow the label.
Gluten Free, Dairy Free, Nut Free, Soy Free, Sugar Free